Black Sunday
(1960)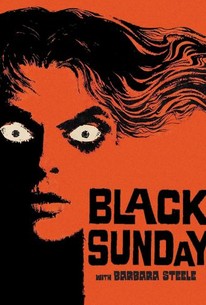 Movie Info
Generally considered to be the foremost example of Italian Gothic horror, this darkly atmospheric black-and-white chiller put director Mario Bava on the international map and made the bewitching Barbara Steele a star. Steele plays Princess Asa, a high priestess of Satan who is gruesomely executed in 1600s Moldavia by having a spiked mask hammered into her face. Before she dies, Asa vows revenge on the family who killed her and returns from the grave two centuries later to keep her promise. In a striking resurrection scene replete with bats, scorpions and fog, Asa rises from the tomb to claim her bloody vengeance. With vampires, bubbling flesh, dank crypts, undead servants and torch-bearing mobs, the plot is a little ripe, but the visuals are Bava's primary consideration. The atmosphere is so heavy and the imagery so dense that the film becomes nearly too rich in texture, but the sheer, ghastly beauty of it all is entrancing. Although this was only the second of Bava's twenty-six films as director, it is undoubtedly his best and the one upon which most of his considerable reputation rests.
News & Interviews for Black Sunday
Critic Reviews for Black Sunday
Audience Reviews for Black Sunday
Bava may have a good eye for shadows and compositions, but his silly plot (which clearly borrows from Dracula) doesn't make much sense once you stop to think about it, and so the result, which is now terribly dated, basically ranges from pathetic to laughable, with awful dialogue and acting.
Carlos Magalhães
Super Reviewer
Mario Bava's feature length debut Black Sunday is a stunning gothic horror film that still manages to terrify decades after its release. Beautifully shot, Bava's film possesses atmosphere that elevates the tension on-screen. This is a fine horror film, and a stunning debut by one of Italy's most iconic masters of horror. Black Sunday is simple in its storytelling, and works on so many levels. Films like Black Sunday are much better than most because they use atmosphere to effective buildup the terror, instead of focusing on jump scares like we see in many of today's horror films. Black Sunday is also a very well acted film with a magnetic performance by actress Barbara Steele. Mario Bava would later helm other great horror films, but Black Sunday still reigns as one of his finest. Bava has been called a pioneer in Italian horror, and with this impressive first feature, he crafts a terrific atmospheric horror tale that is absolutely terrifying due to the way it was filmed. I've said it before, atmosphere is key to creating effective terror and with Black Sunday we get just that. It's a subtle, yet truly terrifying film that ranks among the finest of Italian horror films. The fact that the film uses simple elements to create a truly memorable film is proof that when a filmmaker uses few elements at his disposal, then he's able to make something truly memorable and highly entertaining from start to finish. If you love classic horror films, then give Black Sunday a viewing, for its short run time, it truly grabs your attention from beginning to end, and with some great performances, well paced direction from Mario Bava, this is a definite genre classic that no horror fan should miss.
½
Mario Bava became an iconoclastic director of Italian horror and the Gothic landscape with his directorial debut for Marathon Pictures in 1960. The newly minted director adapted a Russian short story named "Viy" only taking a small amount of the story and characters, and transformed it into a near incomparable story of resurrection, hauntings, and period horror including poltergeists, witches, and demons. Set in Russia, but the dialogue is all in English, the story revolves around a condemned witch and her servant who are tortured, burnt at the stake, and interred in a forgotten cemetery by the witch's brother. After a clumsy man wanders across the crypt, when his carriage breaks down, he pricks himself and bleeds on the desiccated remains of the witch, bringing her back to life to haunt her descendant, who eerily looks exactly like her. The film is also an ode to the black and white monster movies of the thirties and borrows its look and appeal from Universal in particular. It's a savage and grotesque kind of film, which utilizes gore and blood to its advantage, but instead of being gratuitous it's used smartly to scare the audience further. The scenes in the witch's coffin before she's resurrected, are always so interesting to watch because there's something obviously fake about the way her face looks, but at the same time there's an unpleasant realness to her features and the way her skin peels away under the iron maiden's spikes. The scenes where the family is haunted remain very creepy and scary to this day. The way the effects are set up, and the way Bava builds the tension to an excruciating level only make for a more interesting watch. The setting was well set up, but not executed well with the characters being so anachronistic and wooden. The best performances come from Barbara Steele when she's playing the witch and Arturo Dominci as the ever loyal and always frightening Javuto. When he comes to the father's bedside and floats out of the room in a rush it was pretty freakish to say the least. This film exemplifies why Italian directors oftentimes make the best horror films, and why Bava is one of the best at doing it.
Spencer S.
Super Reviewer
Black Sunday Quotes
There are no approved quotes yet for this movie.