Black Swan
(2010)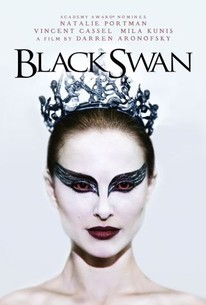 TOMATOMETER
AUDIENCE SCORE
Critic Consensus: Bracingly intense, passionate, and wildly melodramatic, Black Swan glides on Darren Aronofsky's bold direction -- and a bravura performance from Natalie Portman.
Movie Info
A psychological thriller set in the world of New York City ballet, BLACK SWAN stars Natalie Portman as Nina, a featured dancer who finds herself locked in a web of competitive intrigue with a new rival at the company (Mila Kunis). A Fox Searchlight Pictures release by visionary director Darren Aronofsky (THE WRESTLER), BLACK SWAN takes a thrilling and at times terrifying journey through the psyche of a young ballerina whose starring role as the duplicitous swan queen turns out to be a part for which she becomes frighteningly perfect. BLACK SWAN follows the story of Nina (Portman), a ballerina in a New York City ballet company whose life, like all those in her profession, is completely consumed with dance. She lives with her retired ballerina mother Erica (Barbara Hershey) who zealously supports her daughter,s professional ambition. When artistic director Thomas Leroy (Vincent Cassel) decides to replace prima ballerina Beth MacIntyre (Winona Ryder) for the opening production of their new season, Swan Lake, Nina is his first choice. But Nina has competition: a new dancer, Lily (Kunis), who impresses Leroy as well. Swan Lake requires a dancer who can play both the White Swan with innocence and grace, and the Black Swan, who represents guile and sensuality. Nina fits the White Swan role perfectly but Lily is the personification of the Black Swan. As the two young dancers expand their rivalry into a twisted friendship, Nina begins to get more in touch with her dark side with a recklessness that threatens to destroy her. -- (C) Official Site
Critic Reviews for Black Swan
Audience Reviews for Black Swan
Portman is dragged into insanity in what is for sure one of the most extraordinary performances of her career, and this is a spectacular (and fantastically directed) film that dives into the psyche of a disturbed character with a lot of symbolism and an incredible intensity.
Carlos Magalhães
Super Reviewer
½
This may be a movie, that in time grows on me more and more times after i watch it just to fully appreciate this movie. It is a very intriguing and mesmerising movie all round with great performances, fantastic cinematography and great direction. Although at first i wasn't sure if i wanted to watch this movie as it is about ballet even if it is a psychological thriller, however it truly won me over, i think Natalie Portman delivers a stunning and top of the form performance that is truly worthy of the oscar. She certainly delivers a fantastic performance that could possibly persuade me to go and see and actual ballet production. The storyline and script are beautifully written and is a very interesting concept that i very much enjoyed. The story of a ballet dancer striving for perfection but also needing to find that balance between perfection and relaxing so that the emotion of the dance comes through in the dance. I liked that the story concentrated on the difficulty of striving for that perfection when competing against other determined/driven dancers. It really is a great psychological thriller that has a border line between sanity and insanity. A very good movie and does have its moments of pure horror as well! I loved the final scene from where the white swan turns into its opposite and becomes the black, i thought that Natalie Portman did an excellent and exhilarirating performances that i didnt think that you could actually pick on the change between the white swan who is a kind of conscientous, timid and frigid kind of character whereas the black swan is the alto ego of letting go and becoming an intense and maybe scary character and Portman gives and portrays that performance beautifully in that one dance. Very well down and really worth the watch even if you aren't a ballet fan.
Film Crazy
Super Reviewer
½
Much like Aronofsky's "The Wrestler," which shows how much damage wrestling wreaks on a human body, despite it being staged, "Black Swan" exposes the emotional and physical tolls of ballet, despite it being so pretty and ladylike. Natalie Portman's performance is painful to watch - in a good way. She's painfully withdrawn, painfully giddy, painfully lithe, and painfully sensual. The masturbation scene is sexy, but it's not meant to be just that. It's guarded at first, then freeing, then painfully embarrassing. Much of the pain, I suppose, comes from the audience knowing that fit is gonna hit the shan at any moment. Upon first viewing, I thought the movie broke its own set of supernatural rules because all throughout, we're supposed to believe that what Nina sees, feels, and does are figments of her imagination - sprouting swan wings, shanking a bitch. Nina doesn't REALLY sprout wings. Her ankles don't REALLY collapse in on themselves. She doesn't REALLY kill Lily, and as a corollary, she doesn't REALLY stab herself. No other character in the movie can see these psychotic delusions, yet the one that they do see (the bloody gash from aforementioned shanking) just happens to be caused by the only delusion that the filmmakers don't even show the audience (Nina killing herself, apparently, when she thought she was killing Lily). However, I bought the fantasy-becoming-reality climax more this time for no real reason other than perhaps wanting a believable resolution that mirrors the sacrificial suicide in the plot of "Swan Lake."
Alice Shen
Super Reviewer
Black Swan Quotes
| | |
| --- | --- |
| Lilly: | I can't believe he calls her that. It's so gross. |
| Nina: | I think it's sweet. |
| Lilly: | Little princess? I mean he probably calls every girl that. |
| Nina: | No way. That's just for Beth. |
| Lilly: | Well, I bet he'll be calling you little princess any day now. |
| Nina: | I don't know about that. |
| Lilly: | Oh, sure he will. Just gotta let him lick your pussy! |
| | |
| --- | --- |
| Erica Sayers/The Queen: | Take off your shirt. |
| Nina: | No. |
| | |
| --- | --- |
| Beth MacIntyre/ The Dying Swan: | Me? I'm nothing. Nothing! Nothing! Nothing!!! |