Black Swarm
(2007)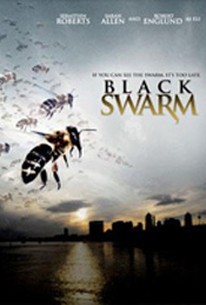 AUDIENCE SCORE
Critic Consensus: No consensus yet.
Movie Info
A dark cloud of death descends upon a small town when a swarm of genetically modified wasps take to the sky in this sci-fi shocker featuring A Nightmare on Elm Street star Robert Englund. Devin Hall (Sebastien Roberts) has seen his fair share of hostile insects. An exterminator who specializes in ridding the world of household pests, Devin gets the fright of his life when he witnesses a homeless man attacked by a swarm of particularly aggressive wasps. Convinced that something sinister is afoot, the rattled exterminator enlists the aid of new Deputy Sheriff Jane Kozik (Sarah Allen) and associate professor of entomology Katherine Randall (Jayne Heitmeyer) in stopping the swarm before it gets stronger. Later, when Jane's curious daughter Kelsey strikes up a conversation with eccentric wasp keeper Eli (Englund), an already troubling situation becomes absolutely terrifying. It seems that the mutant wasps are turning their victims into drones. Is there any hope of stopping this government-created weapon before everyone in Black Stone becomes human incubators for the next wave, or has the initial swarm already grown too powerful to defeat by conventional means?
Critic Reviews for Black Swarm
There are no critic reviews yet for Black Swarm. Keep checking Rotten Tomatoes for updates!
Audience Reviews for Black Swarm
Good plot, horrible film.
Jacob Palacio
Super Reviewer
If there's one thing that truly terrifies me it's wasps. I hate the buggers, so I was hoping this B-Movie would actually give me a few chills. I was left unsatisfied. It's still your average B-Movie with fairly decent special effects, but there's nothing to set it apart. The wasps even start controlling humans. Eventually is spirals into a government cover-up weapons program thing. Englund is a bit too slimy and Kruegerish to really connect with the audience or blend into the film like he did in Red. Good for a few chuckles but rests back on it's B-Movie spine, rather than trying to be anything more.
Luke Baldock
Super Reviewer
Black Swarm Quotes
There are no approved quotes yet for this movie.