The Black Windmill
(1974)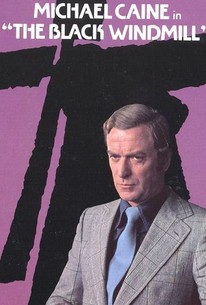 The Black Windmill Photos
Movie Info
Michael Caine stars as an espionage agent whose young son is kidnapped. Complicating matters is the fact that the kidnappers (John Vernon and Delphine Seyrig) are Caine's own colleagues. They want to secure Caine's aid in rounding up a diamond smuggling ring, and they don't care who they have to hurt to do so. He agrees to go along, all the while searching for his missing son. Janet Suzman co-stars as Caine's estranged wife, who is compelled to join him in his search. Helmed by veteran filmmaker Don Siegel, The Black Windmill is based on Seven Days to a Killing, a novel by Clive Egleton.
Critic Reviews for The Black Windmill
Audience Reviews for The Black Windmill
½
A standard 70ies spy/pulp thriller featuring Michael Caine, and this movie would have been long forgotten already and lost in the abyss of film history if it was not for Michael Caine taking the lead. The script & direction are average and on the level of a back-to-back episode of Mission: Impossible or Get Smart, I would even dare say, probably not even as good as that. The script jumps right into the blood involving your run-of-the-milll ingredients for a spy thriller, stolen diamonds, kindapping, intrigue, MI5 and of course nudity and some random violence, without ever taking off. As I said before, the direction is unimaginative and very dull, expect nothing but camera totals and no changes in editing or pace or anything else that would turn up the tension. Unless you are a huge fan of Michael Caine, who was the reason why I picked this up, you should give this one a definite pass. And even Caine's performance ability has seen better days. Henrik
Henrik Schunk
Super Reviewer
The Black Windmill Quotes
There are no approved quotes yet for this movie.