Blackbeard, the Pirate
(1952)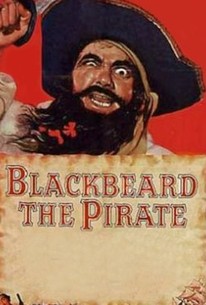 AUDIENCE SCORE
Critic Consensus: No consensus yet.
Blackbeard, the Pirate Photos
Movie Info
Robert Newton exhibits absolutely no shame in his portrayal of the title character in Blackbeard the Pirate. If you thought that Newton's "Arr, matey"s got out of hand in Treasure Island, wait til you see this one. The plot concerns the efforts of the British admiralty to bring Blackbeard to justice. To that end, officer Keith Andes allows himself to be abducted by the pirate's minions. Also captured by Blackbeard is luscious Linda Darnell, the adopted daughter of Andes' superior Torin Thatcher. When it turns out that everyone is being double-crossed by the insidious Thatcher, all Technicolor hell breaks loose. William Bendix costars as Blackbeard's chief henchman, appearing to be a model of subtlety when compared to his costar. Future "Beverly Hillbilly" Irene Ryan has some nice moments as Linda Darnell's lady-in-waiting.
Critic Reviews for Blackbeard, the Pirate
Audience Reviews for Blackbeard, the Pirate
Linda Darnell is incredibly lovely, Robert Newton chews the scenery to the nth degree, and Granny Clampett has a hilarious drunk scene but that all adds to the saturday matinee fun feel of this adventure.
Very silly but still a fantastic seagoing yarn.
Barry Lappin
Super Reviewer
½
"blackbeard the pirate" is roul walsh's realistic interpretation of authetic piracy whirling around the abyss among the ocean, the ferocious avarice of men. robert newton's blackbeard is obnoxious, schemefully sordid, and also beastly gruesome. the bushy blackbeard of his looks as if it's full of crawling louses hiden in between that parallels his snaky backstabbing character which is utterly no good. he doublecrosses everyone for his own interests and he slaughters every possible man who might jeopardize his personal interest. he's lecherous, vulgar and mostly incorrigibly ruthless. the only decent character maynard who is the lover of beautiful linda darnell is a timidly weak character who strives for merely survival and the companionship of his beloved lady who could inspire a bit of chivalry in him. maynard is no hero but an clever little mouse who always tries to manage to escape the devilish palm of blackbeard, but not a charming nor glorious character. "blackbeard the pirate" could be by far the most realistic flick upon piracy with a group of scum-alike mobs and one despicable gunsel butchering each other. except linda darnel's striking beauty, there's absolutely no glamour or dreamy beautification of idealism in "blackbeard the pirate", even darnel's character is a oportunistic female thief who once intends to devour the treasure all as her own possession.
Veronique Kwak
Super Reviewer
Blackbeard, the Pirate Quotes
There are no approved quotes yet for this movie.