Blackbird
(2013)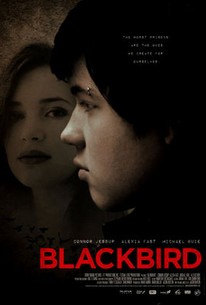 Movie Info
BLACKBIRD is a film about a troubled teen who is falsely accused of planning a Columbine shooting scenario. It all begins when an unlikely bond forms between SEAN RANDALL (Connor Jessup) and a preppy teenage girl named DEANNA ROY (Alexia Fast). Deanna's boyfriend is deeply threatened by Sean and Deanna's friendship, resulting in a violent confrontation. Seeking to protect himself, Sean issues a death threat online, and is swiftly arrested. When the police raid Sean's home, they find rifles, shotguns, knives and ammunition - all property of Sean's father RICKY (Michael Buie), an avid hunter. They also find a sup- posed "revenge plan" targeting over twenty people who have tormented Sean. The authorities and the media proclaim another Columbine situation has been narrowly averted, and soon Sean faces a terrifying imprisonment in a youth detention facility. Sean's only hope is to overcome his dark image, and prove his innocence to Deanna and to his community. (c) Official Site
Critic Reviews for Blackbird
Audience Reviews for Blackbird
½
A worrisome treatment of a teen in today's politically correct times.
½
I enjoyed this troubled coming off age story, mainly due to the lead actor: Jessup. The film also had great direction. A story in which most people can relate to make it one to see.
Jarrin Rozenblad
Super Reviewer
½
This incredible debut feature from Canadian Jason Buxton; is tense, unsettling, and unpredictably thought provoking. Purely centered on the the main character's motivations and those around him. Is he really as dangerous as he appears to be? or is it just bad luck that he's accused of the crimes he didn't/would never comit. It's a fascinating portrayal of youth wasted on the young and can compel any viewer who watches it. One of MIFF's Greatest Surprises!!!
Luke Eberhardt
Super Reviewer
Blackbird Quotes
There are no approved quotes yet for this movie.