Blackboard Jungle
(1955)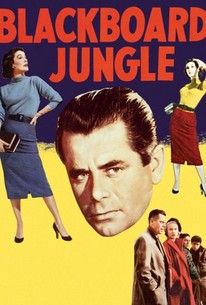 Movie Info
This gritty, unflinching film centers on Richard Dadier, a war vet who gets a job teaching in a tough inner-city school. An idealist, he honestly believes he can make a difference with the kids, but unfortunately, he gets no support from the rest of the faculty.
News & Interviews for Blackboard Jungle
Critic Reviews for Blackboard Jungle
Audience Reviews for Blackboard Jungle
½
One of the earliest if not the earliest school/teacher drama out there that deals with issues of violence, drugs, crime (attempted rape) etc. You got give the filmmakers credits for taking this bold step and Glenn Ford holds his own as tight-teethed teacher fighting against the odds. Of course, the depiciton of the kids is very one-sided and follow (or should I say established) the typical formula that is still being used today. Evil leader, good leader and the teacher who tries to win over the other while getting rid of the bad seed. Yes, the whole pro-America, hard-working man take is slightly annoying but then again, the film is from 1955 and that is probably what one has to expect. Apart from being one of the first of its kind, a solid lead performance and the charisma of Poitier, I don't see a lot of merit in her that warrants a rating above 2.5.
Henrik Schunk
Super Reviewer
A provocative and powerful drama about a teacher, Glenn Ford in a superb performance and his harrowing experiences in a New York City high school in the mid 1950s. Where gang violence, racial and sexual tensions are out of control, from the scenes that show the painful inability of the teacher to control his class to incidents of straight assaults by some juvenile hoodlums this a hard-hitting entertainment. A first-rate cast with Vic Morrow as the leader of teen misfits and Sidney Poitier in star-making performance as a troubled youth. This was the first film to feature rock music-"Rock Around the Clock" by Bill Haley is played over the opening and closing credits. One of the most controversial films in cinematic history.
Danny Rovira
Super Reviewer
½
Not a weak depiction actually but frankly not my kind of film, I couldn't care less about its characters
Blackboard Jungle Quotes
There are no approved quotes yet for this movie.