BlacKkKlansman
(2018)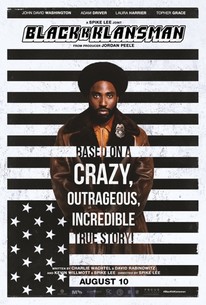 TOMATOMETER
AUDIENCE SCORE
Critic Consensus: BlacKkKlansman uses history to offer bitingly trenchant commentary on current events -- and brings out some of Spike Lee's hardest-hitting work in decades along the way.
Movie Info
From visionary filmmaker Spike Lee comes the incredible true story of an American hero. It's the early 1970s, and Ron Stallworth (John David Washington) is the first African-American detective to serve in the Colorado Springs Police Department. Determined to make a name for himself, Stallworth bravely sets out on a dangerous mission: infiltrate and expose the Ku Klux Klan. The young detective soon recruits a more seasoned colleague, Flip Zimmerman (Adam Driver), into the undercover investigation of a lifetime. Together, they team up to take down the extremist hate group as the organization aims to sanitize its violent rhetoric to appeal to the mainstream. Produced by the team behind the Academy-Award (R) winning Get Out.
Critic Reviews for BlacKkKlansman
Audience Reviews for BlacKkKlansman
This film couldn't have come out at a more fitting time. It doesn't even try to hide its commentary on the current state of the US administration and GOP. It is accordingly fitting and nevertheless devastating to see the film end with actual clips from the Jacksonville events of 2017 and the presidents' comments. As for the main film about the undercover work inside the KKK in the late 1970s, it's pretty great. While the advertising (and poster) suggested an even crazier premise, it's still pretty fascinating, well done and acted.
An exaggerated look at the turmoil of 1970's urban America (in order to comment on the present-day) seen through the eyes of a hip black cop trying to break the color bar in one of Colorado's police departments. For taking in as much as it does regarding subject matter it is to be commended, but the whole train rides on the ever-so-thin bon mot that black people who can affect white speech patterns possess a comic one-upmanship - which the piece cannot maintain. Put this down to a mighty effort that unfortunately fails.
Kevin M. Williams
Super Reviewer
½
Two African-American filmmakers, one making his debut and another in his fourth decade of popular storytelling, have produced two of the most uncompromising, entertaining, provocative, and exacting and relevant movies of this year. Boots Riley's absurdly comic indie Sorry to Bother You was a festival smash, and Spike Lee's BlackkKlansman is being positioned as a summer breakout. Audiences have often looked to the movies as an escape from the woes of our world, and when the news is non-stop catastrophic woe, that's even more apparent. However, both of these movies, while enormously entertaining and charged with fresh relevancy, are a reminder of the very social ills many may actively try to avoid. Both films, and their respective filmmakers, make cases why ignorance is a privilege we cannot afford. Also, did I mention that the movies are outstanding, daring, and hilarious? It's the early 1970s, and Ron Stallworth (John David Washington) is the first black officer on the Colorado Springs police force. He wants to be a detective and taken seriously, and one day he calls the leader of the local chapter of the Ku Klux Klan pretending to be a white nationalist. He builds a relationship over the phone with the Klan but he can't meet them in person. Enter fellow officer Flip Zimmerman (Adam Driver) who stands in as the public Ron Stallworth, avowed white supremacist. Problem is Flip is Jewish, a group the Klan isn't much more favorable with. The two officers must work together to gather enough actionable evidence to stop the Klan before they kill. This is Lee's best film since 2000's Bamboozled and he feels jolted awake by the material. He doesn't shy away from the film's relevance and potent power but also knows how to faithfully execute the suspense sequences and police procedural aspects of the story by Charlie Wachtel, David Rabinowitz, Kevin Willmott, and Lee himself, based upon Stallworth's book. The story alone is the film's greatest selling point. It feels like a bizarre recreation of that Dave Chapelle sketch about the blind, and black, Klansman. It's a story inviting irony and bafflement, and it's ribald and funny for long stretches, buoyed by Washington's charismatic and forceful performance (close your eyes and he sounds just like his dad, Denzel). The story is so fascinating that you just want to see where it goes. Stallworth is fighting for respect in a still-racist police force, and he's pushing Zimmerman to feel more invested in their operation from his own maligned status. "I never thought much about being Jewish," he shares with Ron, "But I've been thinking a lot about it recently." Theirs is a partnership we root for, and each new accomplishment bonds them together and increases their credibility with a wary police chief. It's a movie that has a steady supply of payoffs and complications, leaving you satisfied by the end but also more than a bit rattled at the uneasy connections to contemporary news. This is a character-driven suspense film that does so much so well, drawing in thrills and laughs without making either feel cheaper by their inclusion. This is an undercover operation so every scene with the Klan has the electric uncertainty of whether or not Flip will be caught and our heroes doomed. Because you have two Ron Stallworths, we already have a complicated ruse to keep up (though why Flip couldn't simply also be the voice on the phone is likely just how it happened in real life). Each new piece of information, each new meeting, takes our characters deeper into the Klan infrastructure, including a guided visit from none other than Grand Wizard (a.k.a. head honcho) David Duke (Topher Grace in an outstanding performance). The risk escalates from being caught to thwarting a planned bombing that could kill innocent minority protestors. The movie does a great job of finding new ways to remind you what is at stake, and while the Klansman are set up to be laughed at and ridiculed, they are still seen as dangerous. They still have the direct intent to physically harm others, not just harass and intimidate. Because of the undercover operation, you'd be right to assume that Stallworth's personal life and blossoming romance with a collegiate activist, Patrice (Laura Harrier), would be the least interesting part of the movie. It's not poorly written or acted by any means. She serves as a reminder of Stallworth's split loyalties, working for the police, which many in his community see as a tool of oppression from racists with a badge (and we too see this in action). He is always hiding some part of himself, be it his racial identity, his personal affiliation, or even what he really feels about his corrupt colleagues. Even with her, he cannot relax completely. It shows the more personal side of the Stallworth character and provides something real for him to lose, especially once the local Klan targets Patrice. I understand the role she serves in the larger story but I'd lying if I wasn't eager to get out of every one of her scenes and back into the action. That's the problem when you have one superior storyline; the others begin to feel like filler you'd rather leave behind to get back to the good stuff. BlackkKlansman also can't help itself with the political parallels to our troublesome 45th president, but I loved every one of them. A superior officer warns Stallworth about his dealings with Duke, specifically that he might make good on the promise to retire as Grand Wizard and go for political office. "Come on, America would never elect a man like David Duke as president," he says with thinly veiled incredulity. The characters might as well turn and wink to the camera and say, "We're talking about Trump," but I laughed all the same. At one Klan dinner, the participants chant, "America first," which is a Trumpian campaign slogan, if you didn't know dear reader, derived from the Klan (Trump's own father was arrested attending a 1927 Klan rally). These parallels are destined to turn off some viewers, though I think the subject matter and Lee's name should be enough to know exactly what kind of movie you're electing to watch. Nobody goes to a Lars von Trier film expecting to be uplifted about the state of humanity. It's at its very end where the film reminds you just how sadly relevant it still is today (minor spoilers but I don't think they will ruin anything for you). While Stallworth has bested the local chapter of the KKK, there's another late night with a sudden alarming noise, Stallworth on his guard, and a cross is burning out in the distance. Just because our characters have foiled a band of racists doesn't mean racism has been eradicated. Instead, as the film suggests, it evolves, and Lee concludes with an impactful montage of news footage of the Charlottesville white supremacist rally and President Trump contorting to find fault on "both sides" when clearly one side was murderous and racist. You even see real-life David Duke on the premises spewing his re-branded style of hate. The evolution of white supremacy demagoguery has become political, and it has found cover under the guise of a president eager to stoke racial resentments and divisions to his advantage. He's normalized the abhorrent behavior and given it mainstream cover. It's a powerful and lasting conclusion (much in the same way as the montage of Hollywood's harmful depiction of black people in Bamboozled - including the Klan hero worship in Birth of a Nation, also featured here prominently) that should remind people that the threats of racism and Nazis and the KKK are not a thing of the past. It is very much a staple of the present, and how much it is allowed to remain a staple is up to the moral outrage of voters. BlackkKlansman and Sorry to Bother You are each unique and fun but with larger messages to say about the black experience and other fissures within our volatile society. You'll be thoroughly entertained by either film and you'll walk away with something to ponder and discuss with friends and family and maybe that one racist uncle at Thanksgiving, the one who uses the term "false flag operation" a little too liberally. BlackkKlansman tells a fascinating, comic, and thrilling story about racism of the past, drawing parallels to the trials of today, in particular under the era of Trump. Sorry to Bother You has many targets, many points, and much to say, exploding with thoughts and cracked comedy. Riley is holding up a mirror to the shortcomings and inanities of our own society and the ease we can all feel to turn a blind eye to the difficult realities of systemic racism, capitalism, and worker rights. Lee is a known firebrand and his polemic doesn't shy from its political relevancy, but it tells a highly engaging story first and foremost, with top acting performances from its cast. In a summer of studios afraid to take chances, here are two excellent movies that take crazy chances and provide bountiful rewards. Nate's Grades: BlackkKlansman: A-
Nate Zoebl
Super Reviewer
BlacKkKlansman Quotes
There are no approved quotes yet for this movie.