Blackway
(2016)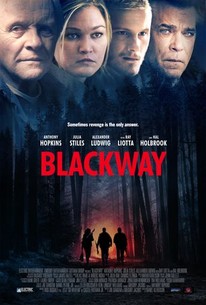 Movie Info
Blackway is a suspenseful thriller set against the rugged backdrop of a Pacific Northwest logging community. When a young woman, Lillian (Julia Stiles), returns to her hometown after the death of her mother, she unwittingly raises the interest and eventual ire of Blackway (Ray Liotta), a crazed ex-cop turned violent crime lord. Blackway's stalking and relentless harassment force Lillian to seek help from the faint-hearted local sheriff who advises her to leave town. Undaunted, she forms an unlikely alliance with a retired logger (Anthony Hopkins), who is still grieving over the loss of his daughter, and carries his own secret vendetta against Blackway. Together with a young, introverted friend (Alexander Ludwig), the threesome set out for justice and revenge against the sociopathic Blackway, leading them on a violent, perilous journey that culminates in a face to face showdown with their nemesis.
Critic Reviews for Blackway
Audience Reviews for Blackway
½
Black we could represent send cinematic median , where half of all movies are better and half or worse. It isn't particularly exciting, although it is not boring either. The acting is professional but nothing fans of Hopkins and styles will recall is among their best, Andrew Ludwig comes off best in that regard. The plot is overly simple with each scene Bringing thep bringing the rotate One step closer to the bit to finding the bad guy black way , I name you're not likely to forget seeing as they mention it to 165 times like there an ad for auto insurance. The script is the one component that raises a little higher, and I liked the interaction between the pro tags, but not enough to really recommend. Overall, extremely average.
Doctor Strangeblog
Super Reviewer
Blackway Quotes
There are no approved quotes yet for this movie.