Blacula
(1972)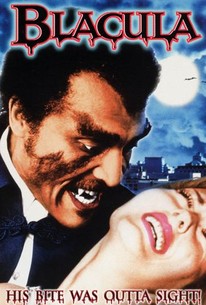 Movie Info
Advertised as the 100th production of American International studios, Blacula stars actor/singer William Marshall in the title role. An 18th century African prince, Blacula is transmogrified into a vampire while visiting Transylvania. Two centuries later, he rises from his coffin to wreak havoc in the Watts district of Los Angeles. Blacula's particular target is Tina (Vonetta McGee), whom he thinks is the reincarnation of his long-ago lady love. Thalmus Rasulala assumes the "Van Helsing" role as the vampire hunter who can't convince the authorities to cooperate. Yes, that is the same William Marshall who later played "The King of Cartoons" on TV's Pee-wee's Playhouse. A sequel, Scream, Blacula, Scream!, appeared not long after.
Critic Reviews for Blacula
Audience Reviews for Blacula
A combination vampire movie and blaxploitation movie, which you wouldn't think would be good, but it's actually a very fun movie, and it's one of my favourite vampire movies of the 70s.
½
While this movie is pretty cheesy and ridiculous (as if the title couldn't make that obvious enough), it's a lot better than it might seem. It came out during the blaxploitation era, and is considered to be a blaxploitation horror film, but much of the campy and stereotypical elements that are typical of those films aren't really found here. They are there a little bit, but the most sterotypical campy thing here are the gay interior decorators. This isn't a "jive vampire" like one might expect. Instead ,things are mostly played straight. Instead of being "Dracula's soul brother" this is a serious take on the vampire legend, trying to mix the gothic elements of Hammer horror films with contemporary (1970s) African American culture. Despite some bad writing and some iffy acting, this is a fairly successful film. I am biased, and yeah, this film is heavily flawed, but it's pretty damn entertaining. It also tries for a bit of subtext, which is always appreciated. This could have been a lot better, but it's far better than the later attempt at a black vampire that was the woeful "Vampire in Brooklyn". Give this one a shot: there's a good mix of fun, romance, and horror, and some surprisingly well done sequences. Don't expect it to be a masterpiece, but don't let preconceived notions prevent you from seeing this, either.
Chris Weber
Super Reviewer
This is a very cool movie and deserves its cult following. This lively and amusing hybrid of blaxploitation and low-budget horror in which African Prince Mamuwalde ( William Marshall) goes to visit Count Dracula (Charles Macaulay), seeking his support in ending the slave trade. ( I wasn't aware Dracula was involved in the slave trade?)However, the twisted Count decides to curse Mamuwalde with the trait of vampirism. A few centuries later, Mamuwalde rises from his coffin in contemporary Los Angeles, becoming fixated with Lisa (Vonetta McGee), the reincarnation of his long-ago bride, Tuva (also played by McGee). Tracking him is determined Dr. Gordon Thomas (an engaging Thalmus Rasulala), a Van Helsing variation who doesn't take long to realize that he is dealing with a strange situation. Marshall, blessed with an effortless air of dignity and a deep, rich voice akin to that of James Earl Jones, is a good choice for the lead. McGee and Denise Nicholas are attractive co-stars who do more than just provide decoration. They are both very appealing. Canadian legend Gordon Pinsent is good in the role of Thomas's colleague. One welcome touch is the casting of legendary Hollywood character player Elisha Cook as a hook-handed coroner. The film itself is fun, a spirited, urban African American spin on the traditional vampire story. It's not what I would consider scary at all, but it delivers a few good jolts, is paced well, and is generally hard not to like. The music is good, including some show-stopping on screen performances by The Hues Corporation. "Blacula" is basically in a nutshell solid, infectious entertainment, and worth a look. Followed by "Scream Blacula Scream" the following year.
David Ladd
Super Reviewer
Blacula Quotes
There are no approved quotes yet for this movie.