Dao (The Blade)
(1995)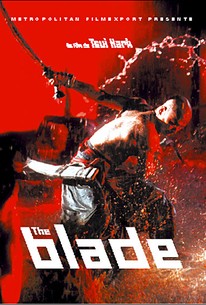 AUDIENCE SCORE
Critic Consensus: No consensus yet.
Critic Reviews for Dao (The Blade)
There are no critic reviews yet for Dao (The Blade). Keep checking Rotten Tomatoes for updates!
Audience Reviews for Dao (The Blade)
½
Good updating of The One Armed Swordsman by Hark, but unfortunately I didn't like it anywhere near the original. Also, the storytelling in this, as in many of Hark's films, is sometimes confusing as hell, making me wonder if the subtitles were correct or if I was watching an edited version of the film. But the atmosphere and kung fu action are great, and he does put his own dark spin on an often retold tale. Recommended to fans of Hark and the kung fu genre in general.
Christopher Brown
Super Reviewer
½
The type of movie i wish Tsui Hark made more often, the film does live to the reputation it has gather. Unlike other films of the genre that have come out from HK this is a dark one, a dog-eats-dog world is portrayed in the film instead of the typical colorful Zhang Yimouesque wuxia land. A cruel world where only the most fit survives and where the characters live in a constant ambigous moral area. It took the original premise of the Shaw Bros classic and gave it a much deserved expansion. While a bit rough in the editing and camera, the film is not that hard to follow. This truly deserves a decent DVD release one of these days.
Tsubaki Sanjuro
Super Reviewer
A remake of Shaw Brothers classic , The One-armed Swordsman, this high octane slice and dice-athon is a little crude and melodramatic by today's standards, but it still has power. Tsui Hark's use of extreme camera angles and close ups is a little hit and miss, sometimes having stunning results, others making it almost impossible to follow what's going on in the frenetic action scenes. But it's amazing to think that this was made before the days of stop-motion camera techniques and CGI; some of the breathless action sequences are filmed in extremely long single takes which is a testament to the skill of the actors and stunt co-ordinators involved. But it's the timeless plot of a total bad-ass giving the villains their just desserts as a kind of one man Seven Samurai that makes the film.
Dao (The Blade) Quotes
There are no approved quotes yet for this movie.