Blade II
(2002)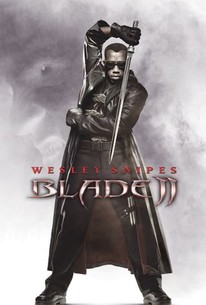 TOMATOMETER
AUDIENCE SCORE
Critic Consensus: Though Blade II offers more of what worked in the original, its plot and character development appear to have been left on the cutting room floor.
Movie Info
Four years after scoring a box-office touchdown with Blade (1998), actor Wesley Snipes returns to portray the Marvel Comics character again in this sequel that teams him with Mexican horror director Guillermo del Toro. A half-vampire, half-human hybrid, Blade (Snipes) is a merciless vampire hunter bent on destroying the bloodsuckers that feed on humanity. The keys to Blade's success are a serum that allows him to resist the urge for blood and an array of inventive, deadly weapons, both of which were once supplied by his mentor, Whistler (Kris Kristofferson). Since Whistler's death, Blade has relocated to Prague and recruited the pot-smoking slacker Scud (Norman Reedus) to take the place of his father figure, but then he discovers that Whistler's not dead after all: He's been infected with the vampire virus. Reunited with Whistler, Blade is dealt an even bigger surprise: His greatest enemy, vampire leader Damaskinos (Thomas Kretschmann), wants to make peace with him. It seems that the vampires are facing a greater threat than Blade and hope to persuade him to fight the Reapers, a mutated super-race of vampires on a rampage of murder, indiscriminately killing both humans and their fellow bloodsuckers while sucking their victims dry. Blade agrees to a truce and joins the Bloodpack, an elite squad of commandos originally formed to fight Blade himself. Soon, the vampire soldiers discover that the virus responsible for creating their enemies is spreading rapidly and can be traced back to a mysterious "Patient Zero." Blade 2 (2002) co-stars Ron Perlman, Leonor Varela, Donnie Yen, and Matt Schulze. ~ Karl Williams, Rovi
News & Interviews for Blade II
Critic Reviews for Blade II
Audience Reviews for Blade II
While the action delivers and the special effects are decent for their time, the ensemble of characters consists merely of caricatures, prancing through the gloomy scenery in a contest of who acts the coolest. That's as shallow and silly as it is entertaining.
Wesley Snipes once again dons the leather overcoat, this time to join forces with an elite vampire unit to combat a race of Nosferatu-like zombie vampire hybrids who threaten to over-run both races. Blade II is essentially the vampire film's answer to Aliens with the high-octane action of the first film still in evidence but this time it is added to by Guillermo Del Toro's keen sense of style and atmosphere. The production design is fantastic and the script involving different factions constantly vying for the upper hand is far more complex than that of most superhero films (David Goyer went on to co-write The Dark Knight). My only gripe is that some of the CGI is starting to look a little dated in a similar way to the original Spiderman films, but this is a comparatively minor point. It may not be to everyone's taste, but for fans of the genre it is a visceral cocktail of vampiric gore and martial arts mayhem that action junkies and horror fans alike should not miss.
Guillermo del Toro does Blade right with Blade II.
Spanning an hour and 50 minutes, there is enough entertainment value to hold everything together. Set at a decent pace, the plot details come steady and at the right times, while the story houses a good combination of action, violence, and even some drama to top it all off.
The action is stylized with some great choreography, including some over the top moves backed by solid CG. The transition between CG to live action melds well during the fights scenes.
Wesley Snipes is one confident Blade, thus leading to a favorable hero. Ron Perlman and Luke Goss provider some excellent supporting characters and Leonor Varela is a delight on screen. If there is a flaw in this film, it is the under utilization of Donnie Yen.
Blade II comes together well, leaving a recommendable sci-fi action picture.
Blade II Quotes
| | |
| --- | --- |
| Blade: | How do you feel? |
| Whistler: | Like hammered shit. |
| | |
| --- | --- |
| Blade: | You obviously do not know who you are FUCKING WITH! |
| | |
| --- | --- |
| Blade: | Well, you didn't think I forgot about you, did you? [stabs his sword through the plexiglass and into Rush's head] |
| Blade: | [pulling the pin out of a UV grenade] You obviously do not know who you are fucking with! |
| | |
| --- | --- |
| Blade: | You're human? |
| Kounen: | Hardly, I'm a lawyer. |
| Kounen: | Barely, I'm a Lawyer. |