A Blade in the Dark
(1983)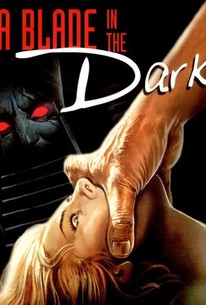 AUDIENCE SCORE
Critic Consensus: No consensus yet.
A Blade in the Dark Photos
Movie Info
Originally titled La Casa Con la Scala nel Buio, Blade in the Dark was directed by the son of legendary horrormeister Mario Bava. Movie composer Andrea Occhipinti is hired to score a horror picture. Andrea is invited to watch the shooting by director Anny Papa. She arrives at the location, which turns out to be a haunted villa. It seems that the previous owner, also a woman, harbored a horrible secret related to a series of mysterious disappearances. When two of Andrea's friends vanish, she assumes that the villa's former owner was responsible. From this point forward, the film becomes an extended homage (or ripoff) of Hitchcock's Pscyho. Filmed in 1983, Blade in the Dark didn't make it to the US until 1986.
Critic Reviews for A Blade in the Dark
All Critics (3) | Fresh (3) | Rotten (0) | DVD (1)
There are real scares along the way ... and Bava shows an early mastery of tension. This film is a must for his fans, an interesting curiosity for others.
Considering how low the budget obviously was, Bava does a great job crafting a classic giallo mystery. The film may even have inspired Wes Craven's "Scream 3," which was also a horror movie about the making of a horror movie.
Audience Reviews for A Blade in the Dark
The copy of this film I watched was English Dubbed which made it a negative point from the start. This is something that might have appeared at the Drive In or on 42nd street. Don't confuse this Bava with Mario Bava. Pretty much guess who the killer is 1/4 way into the movie, no suspense, no thrills, No Skin, and no Drama. 2 stars
Bruce Bruce
Super Reviewer
A Blade in the Dark is the product of Mario Bava's son Lamberto Bava. The director has a few Italian classics under his belt, including this one, but I've never been particularly impressed with his work or anything. As far as thie film goes, I wouldn't say that it's one of the best giallos out there, but it does have a lot of atmosphere to it. The atrocious English dub makes it pretty much laughable at times but the plot isn't all that hard to follow. At times it's interesting, but other times boring and labored by a loathsome pace. Overall, a decent watch but not much of a classic.
Tim Salmons
Super Reviewer
½
To begin with I was a real sap for liking all that commercial crap that the everyday world is being exposed to watching. That was until "A Blade In The Dark" caught my attention. This was the first film that marked my entry towards Italian horror and what an entrance it was I might add. The opening sequence is a real knockout not to mention dead scary (even the mere thought is enough to give me nightmares). The only con was the fact the acting was tad bit weak, but at the same time exceptional. I won't spoil the ending though, but it could've been a slightly improved with a cat and mouse chase that concludes in a bit of a bloody showdown with hero and killer. The highlight in the film for me though was Lara Nazinsky, who plays Julia (the composer's girlfriend) what a firecracker she is. Though not many would agree about this film being good, it was interesting to know that it was directed with little budget with many of the actors working for nothing and considering Lamberto Bava's credibility of being son of horror legend Mario Bava.
Cassandra Maples
Super Reviewer
A Blade in the Dark Quotes
There are no approved quotes yet for this movie.