Blade Runner
(1982)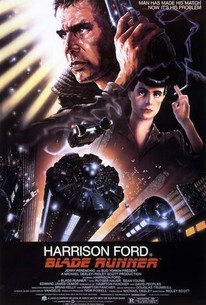 TOMATOMETER
AUDIENCE SCORE
Critic Consensus: Misunderstood when it first hit theaters, the influence of Ridley Scott's mysterious, neo-noir Blade Runner has deepened with time. A visually remarkable, achingly human sci-fi masterpiece.
Movie Info
A blend of science fiction and noir detective fiction, Blade Runner (1982) was a box office and critical bust upon its initial exhibition, but its unique postmodern production design became hugely influential within the sci-fi genre, and the film gained a significant cult following that increased its stature. Harrison Ford stars as Rick Deckard, a retired cop in Los Angeles circa 2019. L.A. has become a pan-cultural dystopia of corporate advertising, pollution and flying automobiles, as well as replicants, human-like androids with short life spans built by the Tyrell Corporation for use in dangerous off-world colonization. Deckard's former job in the police department was as a talented blade runner, a euphemism for detectives that hunt down and assassinate rogue replicants. Called before his one-time superior (M. Emmett Walsh), Deckard is forced back into active duty. A quartet of replicants led by Roy Batty (Rutger Hauer) has escaped and headed to Earth, killing several humans in the process. After meeting with the eccentric Eldon Tyrell (Joe Turkel), creator of the replicants, Deckard finds and eliminates Zhora (Joanna Cassidy), one of his targets. Attacked by another replicant, Leon (Brion James), Deckard is about to be killed when he's saved by Rachael (Sean Young), Tyrell's assistant and a replicant who's unaware of her true nature. In the meantime, Batty and his replicant pleasure model lover, Pris (Darryl Hannah) use a dying inventor, J.F. Sebastian (William Sanderson) to get close to Tyrell and murder him. Deckard tracks the pair to Sebastian's, where a bloody and violent final confrontation between Deckard and Batty takes place on a skyscraper rooftop high above the city. In 1992, Ridley Scott released a popular director's cut that removed Deckard's narration, added a dream sequence, and excised a happy ending imposed by the results of test screenings; these legendary behind-the-scenes battles were chronicled in a 1996 tome, Future Noir: The Making of Blade Runner by Paul M. Sammon. ~ Karl Williams, Rovi
News & Interviews for Blade Runner
Critic Reviews for Blade Runner
Audience Reviews for Blade Runner
Philip Marlowe isn't too impressed with his job, which is turning off toasters, until one beauty of a toaster saves his life. Can a man fall in love with a toaster? And will the toaster love him back? Ridley Scott's interpretation of the future may be overrated, but is positively thick with noir atmosphere and foreboding. And one of my personal favs.
Kevin M. Williams
Super Reviewer
"Blade Runner" is the type of bizarre film that you really need to be in the mood to watch. Harrison Ford leads this film as a Blade Runner hired to track down replicants. The main story seems simple enough, and while it is, there is much more going on, most of which is not as interesting. However; the cast puts their heart and soul into these roles, making you really believe that you are watching a futuristic world gone terribly wrong. I love watching "Blade Runner," but there is the complexity of such a simple story that kind of turns me off each time. This film is brilliantly written, beautifully shot, the effects are ahead of it's time, and the direction by Ridley Scott is commendable as always. Watching this film is like taking a step into the worst possible future. That is why I can highly recommend it. It's weird tone and characters will turn some people off, but if you are willing to accept creativity at it's finest, you will enjoy this movie. The picture does drag on a little for me, but it is undeniably a great film. "Blade Runner" is really, really good.
½
Great noir. The setting was unbelievable and the characters were so 'human'. Too bad she won't live
Spencer Macklin
Super Reviewer
Blade Runner Quotes
| | |
| --- | --- |
| Batty: | Quite an experience to live in fear, isn't it? That's what it is to be a slave. |
| | |
| --- | --- |
| Roy Batty: | Not very sporting to fire on an unarmed opponent. I thought you were supposed to be good. Aren't you the "good" man? C'mon, Deckard. Show me what you're made of. |
| | |
| --- | --- |
| Rick Deckard: | Replicants are like any other machine, are either a benefit or a hazard. If they're a benefit it's not my problem. |
| | |
| --- | --- |
| Gaff: | Its too bad she wont live, but then again who does? |
| Gaff: | It's too bad she won't live, but then again who does? |