Blade: Trinity
(2004)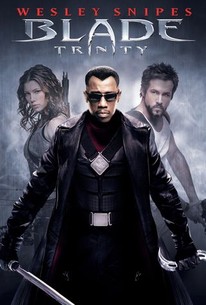 TOMATOMETER
AUDIENCE SCORE
Critic Consensus: Louder, campier, and more incoherent than its predecessors, Blade: Trinity seems content to emphasize style over substance and rehash familiar themes.
Movie Info
Wesley Snipes returns as legendary vampire hunter Blade in this, the third film inspired by the popular Marvel Comics character. A fearless warrior immune to vampires, Blade (Snipes) has become a hated enemy of the bloodsucking community, and as they gather in their desert compound, a group of vampires is plotting to eliminate Blade once and for all by turning the mortal community against him. The vampires have concocted a misinformation campaign that paints a picture of Blade as a ruthless murderer and has sent the FBI on the vampire hunter's trail, led by the relentless agent Cumberland (James Remar). At the same time, the vampires have brought their founding father, Dracula, back to his undead state, renaming him Drake (Dominic Purcell) and investing him with special powers that allow him to walk unharmed in daylight. After a dangerous encounter with Cumberland, Blade and his ally, Whistler (Kris Kristofferson), form an uneasy alliance with a scruffy team of human vampire slayers, the Nighstalkers, led by Hannibal King (Ryan Reynolds), and Whistler's daughter, Abigail (Jessica Biel. While Sommerfield (Natasha Lyonne), a biologist working with the Nightstalkers, researches a scientific answer to the vampire problem, Blade and his comrades take a more hands-on approach against Drake and his minions, including Danica Talos (Parker Posey), Asher (Callum Keith Rennie), and Grimwood (Triple H). Blade: Trinity was directed by David Goyer, who also wrote the screenplay for this film, as well as the first two movies in the series. ~ Mark Deming, Rovi
Critic Reviews for Blade: Trinity
Audience Reviews for Blade: Trinity
½
A downgrade to the previous two films, Blade: Trinity trades the bloody good action to simplified and gore-ridden entertainment. Still suffering from poor storytelling and even more, the dullness of action sequences, the film is a sore tooth just yearning to be yanked out. 2.5/5
Eugene Bernabe
Super Reviewer
This is the third and final film in the saga concerning the half-human half-vampire (daywalker) vampire hunter Blade. This time around series writer David S.Goyer decided to both write and direct...and the result is really as awful as everyone said it was. After getting set up and put on the bad side of the FBI Blade joins forces with some younger and inexperienced (though not totally rookie) vampire hunters who call themselves the Nightstalkers. They are lead by the obnoxious motormouth Hannibal Kane and Abigail Whistler, the daughter of Blade's mentor and only real friend. Together, they fight a a gang of vamps who have resurrected Dracula in a quest to dominate mankind once and for all. The film has a lot of story going on, and, while some of it is cool, the way it's all thrown together and executed is quite poor. The film, simply put, is a mess. All this stuff gets thrown in, yet none of it ever gets satisfactorily fleshed out and developed. Also, the ending is just a real boring letdown. The film did experience a really troubled production, and lots of people are to blame, but the two who probably deserve it most are Goyer who just totally blew his wad to do something epic, and Snipes who was apparently really difficult ot work with, quite angry with the direction Goyer was taking things, and quite hostile to his costars. It shows too, because ihis performance is one of the most blatantly phoned in and lifeless I've seen in a while. The same can be said for Kristofferson,too. All the newcomer, which include notable names like Jessica Biel, Ryan Reynolds, Dominic Purcell, Parker Posey, Triple H, Natasha lyonne, and Patton Oswalt all seem to be at least trying, but even then, none of them are really able to save things. The film overall is really immature, obnoxious, and stupid, and its obvious this was being aimed at a far younger demographic than the other films were. I don't mind humor, but the way it's done here is just lame and unpleasant. It's taken way too far, and Reynolds is annoying to the max. Admittedly he does have a few lines that are quite funny, but mostly I just wanted him to shut up. Also, there's some other ridiculous stuff here too, like a reference to a vampire themed vibrator(which is briefly focused on), and the fact that there's a vampire pomeranian. Okay...so the dog is sorta amusing, but still...pretty dumb. I do think that Biel was actually a decent fit though, and I'm not really a fan of her as an actress to begin with. Despite the plot being a mess, there's plenty of action. Oddly enough though, the film seems rather tame where blood and gore is concerned. I mean, there's some, but it really came off like the studio was really strict about the content, and that's a shame, since it really lessens the impact of the experience. Here's the thing: the movie sucks..big time, but it does have its moments. It's not really boring, but you don't care either. It is occasionally amusing and entertaining, but remains a major disappointment. What makes this last bit sting even more is that, while some people aren't trying, others are, so it's a real mixed bag. It'd be a lot better if the apathy and screwing up was uniform across the board. Even if you're a completist, I'd recommend skipping this one. If you must insist on watching it, at least take precautions like getting really drunk beforehand or something.
Chris Weber
Super Reviewer
Ryan reynolds absolutely steals the show in this one!!
John Manard
Super Reviewer
Blade: Trinity Quotes
| | |
| --- | --- |
| Jarko Grimwood: | Hey, dickface. You seen my dog? |
| Hannibal King: | Have you tried the lobby? |
| | |
| --- | --- |
| Hannibal King: | First of all, your hairdo looks ridiculous. Second, I ate a lot of garlic and I just farted, silent but deadly. |