Blair Witch
(2016)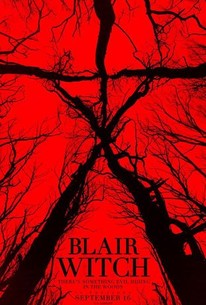 TOMATOMETER
AUDIENCE SCORE
Critic Consensus: Blair Witch doles out a handful of effective scares, but aside from a few new twists, it mainly offers a belated rehash of the original -- and far more memorable -- first film.
Movie Info
A group of college students venture into the Black Hills Forest in Maryland to uncover the mysteries surrounding the disappearance of James' sister who many believe is connected to the legend of the Blair Witch. At first the group is hopeful, especially when a pair of locals offer to act as guides through the dark and winding woods, but as the endless night wears on, the group is visited by a menacing presence. Slowly, they begin to realize the legend is all too real and more sinister than they could have imagined.
News & Interviews for Blair Witch
Critic Reviews for Blair Witch
Audience Reviews for Blair Witch
The direct sequel to the horror hit from the late 90s (not counting that odd quasi-part-2) follows the original's footsteps very closely. For a while that works, and again there are some decent scares thanks to sound effects. But then you feel things get more and more repetitive and you find yourself caring less and less about the characters. There are a few new ideas once we get to the house (again, for the finale) but it's dragged out way too long and ultimately pretty predictable, since all found footage movies end the same way. The movie also makes a big mistake the original didn't make: They show the monster.
Even if the use of the camera is a lot more organic and natural than in the first movie (and in so many other found footage films), this unoriginal rehash feels unnecessary and is not only a waste of time thanks to its effective, anguishing third act (kudos to the production design).
Carlos Magalhães
Super Reviewer
½
When it comes to making money, studios will try to get their hands on any property that has been beneficial in the past. From horror, to westerns, to action films, there really is no limit in the realm of bringing back tired premises from the past. In some rare instances when films are brought back for a new audience, but most of the time they are relying solely on the fact that they have a beloved premise to share with a new audience. Sadly, I think the new Blair Witch falls directly into that category. With new technology and having many ideas to borrow from in a genre that had been created by this franchise in the first place, you'd think it would be nothing but clever scares and creepy sounds, done masterfully. Here is why Blair Witch (aside from a couple commendable moments) is a pretty bad film in retrospect. Back in 1999 when the original film was released for horror junkies across the world, the gimmick of found footage that we know today was not a gimmick back then. Love it or hate it at the time, it felt kind of innovative. Having kids running around in the woods, appearing to be attacked by this myth known as the blair witch was pretty terrifying, seeming like it was actual footage. Sadly, that flare is completely left behind here as the filmmakers use every type of new technology, from headset cameras to drones, in order to make it feel a little more cinematic. What it does in actuality is take away the realism set by the original. Never once did I find myself jumping out of my seat, which is disappointing, given the fact that there was a dumb jump scare every few minutes, trying so hard to terrify its audience. That being said, although the film does retread many steps, it does try to be a little more fluent with its story. For those of you who do not wish to have anything spoiled, please skip to the next paragraph. Following the brother of Heather (from the original film) as he decides to venture out into the woods to look for her, he brings along a group of documentary filmmakers to record their findings. Camping out, getting lost, seeing strange markings, and ending up at the same house in the final act, this film almost feels like a retelling of the original, while also continuing the lore. While I appreciated them trying to continue the story rather than remaking it, I felt myself being bored rather than scared. That being said, once they reach their destination, it is much more fleshed out and you are actually able to get glimpses at things, unlike the original film. For that reason, I give a few props to this otherwise pointless film. I got a few goosebumps in the final moments, but it definitely was not worth sitting through 90 minutes to get to that point. Relying far too much on jump scares to keep its audience engaged in its story was a huge mistake. Every few minutes characters seemed to get themselves lost, only to then storm into the frame out of nowhere to talk to the camera. This gimmick was used far too many times and I found myself eventually rolling my eyes at it. In the original film they were able to use natural sounds of the woods and when a character was far away from the camera you could hardly hear what they were saying, which made it so much more realistic. This time around, you can clearly see the strings. It is clear that every character is either mic'd or ended up in the ADR room after shooting wrapped. Every sound effect is clear as day and every character is as clear as a Hollywood blockbuster. These films were made to feel realistic, and if that was the intention of this film, it has missed the mark completely. While I am not someone who loves the original film, I do admire it. I didn't have many expectations going into this film, but I did hope for the best. Although I do not believe the first film holds up today, it is still an admirable attempt at a new genre. In my opinion, this film tries very hard to continue the story, but ultimately falls short in almost every way. With a "Hollywood" feel and sound effects that just do not seem realistic, it feels much more of a film than an experiment, which is what made this franchise special to begin with. In the end, I was not scared, the film did nothing to further the story, and even though it expands in the final act, it does not make the 90 minute running time worth it. Therefore, I cannot recommend this film, even to fans of the first. That being said, I think you can easily watch the first 10 minutes and then skip to the third act. You will still receive the same impact. Blair Witch tries very hard, but undeniably fails.
Blair Witch Quotes
There are no approved quotes yet for this movie.