The Blair Witch Project
(1999)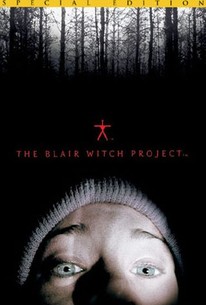 TOMATOMETER
AUDIENCE SCORE
Critic Consensus: Full of creepy campfire scares, mock-doc The Blair Witch Project keeps audiences in the dark about its titular villain, proving once more that imagination can be as scary as anything onscreen.
The Blair Witch Project Videos
The Blair Witch Project Photos
Movie Info
Combining Hi-8 video with black-and-white 16 mm film, this film presents a raw look at what can happen when college students forego common sense and enter the world of voodoo and witchcraft. Presented as a straightforward documentary, the film opens with a title card explaining that in 1994, three students went into the Maryland back woods to do a film project on the Blair Witch incidents. These kids were never seen again, and the film you are about to see is from their recovered equipment, found in the woods a year later. The entire movie documents their adventures leading up to their final minutes. The Blair Witch incident, as we initially learn from the local town elders, is an old legend about a group of witches who tortured and killed several children many years ago. Everyone in town knows the story and they're all sketchy on the details. Out in the woods and away from their parked car (and civilization), what starts as a school exercise turns into a nightmare when the three kids lose their map. Forced to spend extra days finding their way out, the kids then start to hear horrific sounds outside their tents in the pitch-black middle of night. They also find strange artifacts from (what can only be) the Blair Witch, still living in the woods. Frightened, they desperately try to find their way out of the woods, with no luck. Slowly these students start to unravel, knowing they have no way of getting out, no food, and it's getting cold. Each night they are confronted with shrieking and sounds so haunting that they are convinced someone is following them, and they quickly begin to fear for their lives. The film premiered in the midnight movie section at the 1999 Sundance Film Festival. ~ Chris Gore, Rovi
Critic Reviews for The Blair Witch Project
Audience Reviews for The Blair Witch Project
½
Found footage has become a thing of the past very quickly, and while it still has a small fanbase, the films in this genre really aren't all that great. With the exception of a few films (ie. Chronicle or Cloverfield to have a couple), the flare of this genre has really worn down. It is more of a gimmick than ever and even the most average of moviegoers are catching on. Although this genre is on its way out, lets take a look back on the film that made it all possible. At the time, The Blair Witch Project frightened many people, which I do have issues with, but I will expand more on that later. Lets travel back in time to 1999 and discuss how this film holds up 17 years later. While I was too young to witness this film upon its original theatrical run, I caught this film on DVD about 10 years ago. Having revisited a few times since then, I have formed a very strong opinion on The Blair Witch Project. People once called this one of the scariest films ever made, and while I can see some teenagers getting a few chills, it just simply isn't that scary. Even to the people who it fooled into thinking it was actual footage, I do not understand how they felt that way, especially since it was released in theatres. Clearly, a theatrical film without any news or radio stations confirming these disappearances would have been fishy from the start. Mind you, this was a huge selling point at the time, so I can forgive it for selling the film that way. Sadly though, the endless amount of films that preceded it, whether it be exorcism films or time travel stories, audiences simply were no longer impressed and became more annoyed. Personally, with a great story and some clever techniques, I believe this genre still has a few tricks up its sleeve, but it will definitely be rare. Setting aside what came after it, lets dive into why it was hit or miss from the start. At the time of release, as stated above, people called this one of the scariest films of all time. To me that is absolutely insane. The main plot that revolves around three teenagers heading out into the woods to document the myth of the blair witch is the most interesting aspect. As each side character is interviewed as they make their way deeper and deeper into the forest, the tension does build and you truly do feel like this is a real story. That being said, being the very low budget that it is, hearing sounds and screaming instead of at least giving the audience a glimpse at what they see it just plain annoying at times. Yes, given the budget at hand, that is acceptable, but it just makes the film a product of its time. I would have called this film an average horror film if I were to have seen in back in 1999, but it is merely passable for this day and age, especially considering the films that followed it. Never for a second did I believe I was watching a documentary, but the performances almost got me to that point. There are moments where the dialogue feels very real and characters tear up while trying to get their words out. Easily, the best portions of this film revolt around the performances at hand. They are all believable to a fault and I found myself invested in these characters. The only set-back to that is the fact that you never truly get to see what happens to any of them. The film is one great big tease that left me unsatisfied. These actors/actresses give it their all and I commend this film the most for that. In the end, I could never recommend this film to someone nowadays, unless they are aspiring filmmakers who like to watch experimental films. Otherwise, you are 17 years too late to the party. At the time, fans either loved it or hated it, but I think the latter would be the majority today. The Blair Witch Project has a lot of promise and the coe idea of this film is commendable, due to the fact that it sparked an entire genre. For that reason alone, I give this film more props than the actual enjoyment I had with it. As I said, if I were to have been in the theatre 17 years ago, I would have recommended this film to many people, calling it an average film worth checking out. As for todays standards, it is a merely passable experimental found footage film.
½
Starts out creepy enough but quickly descends into a boringly trite and suspense-free rip-off of "Cannibal Holocaust". It also does not help that the three students are ultra-whiney and complete idiots (I have trouble sympathizing with characters that get lost in a forest despite possessing a compass and a map). Similar to "Paranormal Activity" where most of the scare tactics comprise of repetitive teasing that has little to underwhelming pay-offs. It also contains one of the lamest endings to a film ever. In the end, this horror schlock is more famous for it's gimmicky "true-story" marketing and found-footage style (which was cutting-edge for the time before it was over-used thanks to the popularity of this film and "Paranormal Activity") than as a quality piece of cinema.
Christopher Heim
Super Reviewer
Awful trash. Not scarey...just pathetic.
Christian C
Super Reviewer
The Blair Witch Project Quotes
There are no approved quotes yet for this movie.