Blame It on the Bellboy
(1992)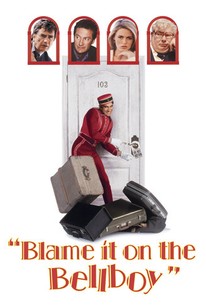 Blame It on the Bellboy Photos
Movie Info
Brevity may be the soul of wit, but that doesn't make the 79-minute Blame It on the Bellboy any funnier. Orton (Dudley Moore) is an ambitious real estate agent. Horton (Richard Griffiths) is a middle-aged married man looking for extracurricular activity via a dating service. And Lawton (Bryan Brown) is a professional hit man. Orton, Horton and Lawton all check into adjoining rooms at a posh Venetian hotel. Bellboy Bronson Pinchot, whose grasp of the English language is virtually nonexistent, delivers the wrong messages to the three men. That's why Orton is trying to sell a valuable piece of property to a roomful of mafiosi, Horton is "paired up" with an unwitting female real estate broker, and Lawton is preparing to rub out a hapless dating-service subscriber......Written by director Mark Herman, this old-style doorslamming farce might have passed muster as a dinner-theater attraction, but on film it comes across as strained and tiresome.
Critic Reviews for Blame It on the Bellboy
Audience Reviews for Blame It on the Bellboy
Marcus Woolcott
Super Reviewer
Blame It on the Bellboy Quotes
There are no approved quotes yet for this movie.