Blank Check
(1994)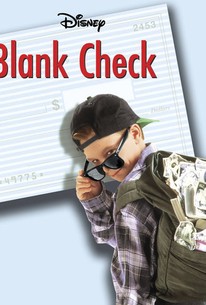 Movie Info
An eleven-year-old boy cashes a criminal's check in the amount of $1 million and between close-calls with gangsters and the like, has a field-day spending the cash on lots of fun things.
Critic Reviews for Blank Check
Audience Reviews for Blank Check
½
If you loved Home Alone, you'll still gonna hate Blank Check!
Lucas Martins
Super Reviewer
½
An incredibly bland Home Alone rip-off, courtesy of Disney.
Christopher Heim
Super Reviewer
Blanch Check is yet another one of those childhood films that you look back years later, and wonder, "how did I love this crap?" obviously as a kid, you think that it's a great film, and re-watching it as an adult, going through your childhood favorites, you think that the film will bring a sense of nostalgia. Unlike many other childhood films, looking back at Blank Check, the film hasn't stood the test of time as so many other childhood favorites. The film is poorly conceived and doesn't belong among other childhood classics. The film may appeal to a young audience of course, but this isn't a film that you can exactly call a "childhood favorite" as it really isn't a film that you'd find yourself rewatching again and again. Blank Check is a bad film that is poorly conceived with a bad plot and bad acting. Director Rupert Wainwright directs a pitiful film that isn't satisfying or fun. Unlike other childhood films which I enjoyed, and still enjoy as an adult, Blank Check is a film that really hasn't stood out among the rest. I didn't like the film back then, and most certainly don't like it now. The film is poorly directed, and thought it may have had a good idea for a plot. The way it turns out is bad. In the hands of a better director, Blank Check might have been a fun, entertaining film, and been a childhood classic. Unfortunately this is an awful film that doesn't do anything special to really entertain you. Avoid this film.
Blank Check Quotes
| | |
| --- | --- |
| Preston Waters: | (shakes Shay's hand in the limousine as he's about to hop out of it and walk in his house) Good night, Shay. |
| Preston Waters: | Good night, Shay. |