Blank City
(2011)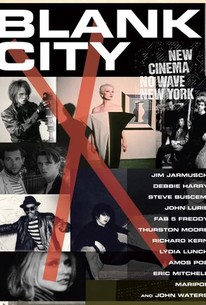 TOMATOMETER
AUDIENCE SCORE
Critic Consensus: Blank City pays affectionate tribute to the No Wave filmmakers' movement -- and the bygone New York City that birthed it.
Movie Info
Before there was HD there was Super 8. Before Independent film there was Underground Cinema. And before New York there was...well, New York. Once upon a pre-Facebook time, before creative communities became virtual and viral, cultural movements were firmly grounded in geography. And the undisputed center of American - some would say international - art and film was New York City. In particular, downtown Manhattan in the late 1970's and 80's was the anchor of vanguard filmmaking. BLANK CITY tells the long-overdue tale of the motley crew of renegade filmmakers that emerged from an economically bankrupt and dangerous period of New York History. It's a fascinating look at the way this misfit cinema used the deserted, bombed-out Lower East Side landscapes to craft daring works that would go on to profoundly influence Independent Film today. Unlike the much-celebrated punk music scene, this era's thrilling and confrontational underground film movement has never before been chronicled. Directed by French newcomer Céline Danhier, BLANK CITY captures the idiosyncratic, explosive energy of the "No Wave Cinema" and "Cinema of Transgression" movements. Stark and provocative, the films drew name and inspiration from the French New Wave; as well as Film Noir, and the works of Andy Warhol and John Waters. Filmmakers such as Jim Jarmusch, Eric Mitchell, Beth B, Charlie Ahear, Lizzie Borden and Amos Poe showcased the city's vibrant grit and bore witness to the rising East Village art and rock scenes and the birth of hip hop. Short, long, color or black-and-white, their stripped-down films portrayed themes of alienation and dissonance with a raw and genuine spirit, at times with deadpan humor blurring the lines between fiction and reality. --(c) Insurgent Media
News & Interviews for Blank City
Critic Reviews for Blank City
Audience Reviews for Blank City
½
"Blank City" is a spirited and informative documentary about a group of low budget filmmakers operating in New York City in the 70's and 80's. While I could point out that the documentary could have used a better organizational and chronological structure, I think at the same time that would have clashed with the punk music like aesthetic of the movies that were made using 8mm cameras that were bought, stolen or borrowed.(I'm no legal expert but I am pretty sure that the statute of limitations has expired on all the financing via petty larceny.) Of them, some of the names might seem familiar to the casual observer like Jim Jarmusch and Steve Buscemi. And it admittedly did take a few minutes to remember where I recognized Richard Kern, now mostly known for nude photography, from. So, it is perhaps ironic that success and money killed this nascent movement, especially the gentrifying of the Lower East Side of Manhattan, home turf for so many of these artists.
A fascinating look at a New York City that is gone forever..some would say for the better, others for the worse. This is a tale of a City in decay..and the fantastic art motivated by that decay.
John Ballantine
Super Reviewer
½
"Blank City" may seem alien to viewers who don't have an affinity with punk culture, but this documentary is an engrossing look at the late-'70s, underground cinema that rose alongside New York's No Wave/CBGB's musical movements. Building on Andy Warhol's "Everybody is a director, everybody is a star" ethic, a clique of rebellious street characters grabbed Super 8 cameras and began making movies. The results were raw, amateurish and often controversial, but had a refreshing directness and lack of artifice. Few of the discussed works are well-known or readily available today (prime exceptions: Susan Seidelman's "Smithereens" and Jim Jarmusch's "Stranger Than Paradise"), so "Blank City" is bound to include fresh information for even hardcore film buffs. Filmmakers like Richard Kern, Eric Mitchell, Amos Poe, Beth B, Nick Zedd, Charlie Ahearn and Vivienne Dick are featured, and participating actors such as Steve Buscemi, Deborah Harry, Lydia Lunch and John Lurie are interviewed. Thurston Moore (inevitably), James Chance, Ann Magnuson, Jim "Foetus" Thirlwell and John Waters add further soundbites.
Eric Broome
Super Reviewer
Blank City Quotes
There are no approved quotes yet for this movie.