Blast From the Past
(1999)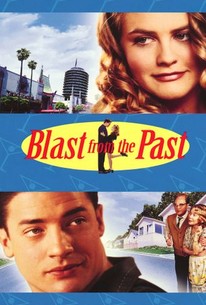 Blast From the Past Photos
Movie Info
In 1962, Calvin Webber (Christopher Walken) was a brilliant but somewhat paranoid scientist living with his Donna Reed-esque wife, Helen (Sissy Spacek), in Los Angeles. In the midst of the Cuban Missile Crisis, a plane crashed into the Webber's yard. Mistaking the blast for "the big one," the Webbers moved into their elaborate bomb shelter to wait out the half-life of radioactive fallout. In the shelter, now a sort of time capsule, Calvin and Helen conceived and raised their son Adam (played as an adult by Brendan Fraser). For 35 years, Adam was raised on Jackie Gleason, Perry Como, and stories about life on the surface. Calvin taught his son about science, baseball, and communists while Mom taught Adam about dancing, good manners, and charming young ladies. Just in time, too, as Adam is sent to the surface to gather supplies and find a wife, preferably a nice, non-mutant girl from Pasadena with which to repopulate the world. Once this "fish out of water" story is set up, the fish, Adam, is set adrift in a sea of supermarkets and adult bookstores, but is soon caught by Eve Rustikov (Alicia Silverstone). Completely lost above ground, Adam enlists Eve's help to navigate his new world and find the supplies on his list. The literally sheltered Adam falls for this bitter, cynical, street-smart woman who grew up in a bleak Los Angeles with little use for love. Living with her gay roommate, Troy (Dave Foley), Eve has had her hopes chipped away by a long line of dead-end jobs and loser boyfriends. When the throwback Adam enters her life with his sunny disposition, seersucker jacket, and joy at seeing the sky, she can't help but fall in love.
Critic Reviews for Blast From the Past
Audience Reviews for Blast From the Past
½
Still a cute film years later. One of Alicia's best
Nicki Marie
Super Reviewer
t has some things i like about it like the beginning 35 minutes with the whole, them being in a bomb shelter for 35 years, and i liked some of the jokes after the 35 minutes but overall it was just an average comedy film.
Michael Edwards
Super Reviewer
½
The central premise is fun and kind of clever, even if the film isn't completely a success. The script is okay, but could have been better, I did enjoy this movie though, and I like the performances. I think those are probably the best part. The concept is so goofy, but the cast do a pretty good job of trying to sell things, especially Walken, Spacek, and Fraser. This isn't an amazing movie, but it's fun for a lazy day.
Chris Weber
Super Reviewer
Blast From the Past Quotes
There are no approved quotes yet for this movie.