Blaze
(2018)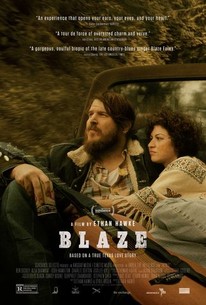 TOMATOMETER
AUDIENCE SCORE
Critic Consensus: As lyrical and bittersweet as the music its subject left behind, Blaze takes a decidedly unconventional -- yet richly rewarding -- approach to the musical biopic.
Movie Info
BLAZE is inspired by the life of Blaze Foley, the unsung songwriting legend of the Texas outlaw music movement that spawned the likes of Merle Haggard and Willie Nelson. The film weaves together three different periods of time, braiding re-imagined versions of Blaze's past, present and future. The different strands explore his love affair with Sybil Rosen; his last, dark night on earth; and the impact of his songs and his death had on his fans, friends, and foes. The braided storyline terminates in a bittersweet ending that acknowledges Blaze's profound highs and lows, as well as the impressions he made on the people who shared his journey.
News & Interviews for Blaze
Audience Reviews for Blaze
Ethan Hawke's directorial debut, Blaze, about the life and music of Blaze Foley is a movie of moments more than it is a research paper on its titular subject. That doesn't mean it isn't cohesive and it certainly doesn't mean we don't feel we learn what is essential about the figure being documented, but while there are many of these moments that ring authentic beyond belief and offer an insight into the mind of Mr. Foley there is still this sense of distance between the audience and the subject that's difficult to shake. The film bounces around from one point of Foley's life to another wanting nothing to do with linear structure, but what comes to be the essence of Blaze is that of this great paradox. The greatest paradox of life, if you will and that is the one so fantastically phrased by newcomer (and Arkansas native) Ben Dickey as Foley when he says, "things that aren't love are pulling at me and I have to let them take me." It's this dilemma of which kind of love you're going to choose for your life: the love of a passion or calling that you feel your life would be incomplete without or the love of another who makes you feel complete. To that extent, Alia Shawkat is beyond lovely here. At one point, it seems Hawke might have been more interested in disproving the persona created through the stories that have been passed down through the years (this point conveyed by the always outstanding Josh Hamilton and musician Charlie Sexton looking uncannily like Townes Van Zandt) so as to show the ugliness Foley had to sometimes exude to head in the direction that was calling him, but the film instead comes to rest on a thesis that more comments on how these myths are formed rather than the differences in the man versus that myth. By paying ode to this "vow of poverty" Foley took that became the lens through which he saw everything Blaze eventually settles on the idea that one isn't of value based on their place or lack thereof in the commercial environment, but that the highest value comes from the belief in what one is doing. Foley may not have even been the greatest unknown singer or songwriter to come out of this time period, but he was a "seller of songs" through and through and this sun-drenched ode to both the man and the storyteller is keen to put as much emphasis on the art being created as it does the artist creating it. The biggest undoing here though, being that Blaze isn't as wholly engaging as it is rapturous in brief flickers of moments; something I presume might have been true of the real Foley as a person and a performer and one of the reasons he was never able to get out of his own way and look past that lens to see through another. On a side note, can we have a broad comedy about Richard Linklater, Steve Zahn, and Sam Rockwell's three buffoon oil tycoons who decide to start a record label, but...like...within the state of the music industry today? That would be most appreciated.
Philip Price
Super Reviewer
AMERICAN FOLK-BORE - My Review of BLAZE (2 Stars) Have you ever seen a film where all of the elements are there - great acting, directing, writing, and cinematography - yet you just can't stand the experience of watching it? Welcome to BLAZE, my nominee for worst best movie of the year. Directed by Ethan Hawke and co-written with Sybil Rosen (based on her memoir and played by Alia Shawkat in the film), this artfully made, experimentally crafted biopic traces the story of Blaze Foley, a Texas outlaw singer/songwriter whose battles with alcohol, mental illness, and ego contributed to the end of his short life in 1989 at the age of 40. Ben Dickey, in his film debut, has a shaggy dog charm in the early years depicted in the film, which intercuts that time with his fateful last night and his semi-successful touring period. The other two thirds, however, presents him as a drunken, spewing, half-lidded monster who never had a gig he couldn't commit to self-destruction. I have no doubt he influenced a great deal of musicians, but this tortured artist story wore me down to the point where I kept muttering to myself, "Just die already!" I begged for John Malkovich's death in THE SHELTERING SKY as well, so Hawke's in good company. Now, I'm saying all of this, yet I acknowledge that this is a really well-made film. Every burnished frame, shot by Cinematographer Steve Cosens, whose prior work I don't know, is gorgeously rendered. Danielle Dyar's set decoration authentically captures the dank spaces of the rural 70s and 80s. Every bedroom quilt looks damp. Every empty dive bar suffers quietly. Dickey and Shawkat, along with wonderful assists by Josh Hamilton and Charlie Sexton, have a terrific, lived-in chemistry. You believe what brought this rebel musician together with this Jewish stage actor, despite their many differences. The kaleidoscopic storytelling feels like the right approach to get inside Foley's mindset. All great things, right? Yet, I feel like any random 30 minutes could have been cut from its lengthy running time and none would be the wiser. Some may make comparisons to INSIDE LLEWYN DAVIS and BOUND FOR GLORY, which I understand. The former film shares BLAZE's "asshole musician" DNA while the latter feels similar with its depiction of a beautiful but downtrodden Americana. Still, I'd watch either of those films over and over happily, and I never want to see BLAZE again. Part of my bias stems from not really wanting to follow this entitled, tortured soul around, despite his Vincent D'Onofrio style of sweet charm, but my real issue - and I heartily acknowledge that you may not share this with me - is that I absolutely cannot stand the music he created. Growing up, I heard so much acoustic guitar noodling by the likes of Neil Young, John Prine, and Dan Fogelberg that I couldn't wait to move to LA and hear the new stuff. I turned on KROQ radio and out blasted The Pretenders' "The Wait" and I was hooked. Sue me, but I love energetically performed, mightily produced music, I hated it when Springsteen created NEBRASKA. Can't he just play with a band? There's something about a musician playing an acoustic guitar that makes me want to die. Piano is great. Sara Bareilles can tickle the ivories and sing "She Used To Be Mine" all day and I'm rapt. Pick up a six string and it feels masturbatory to me, like you're recording a demo and will fill it out later. It's no wonder I love Queen, Mika, and Phil Spector so much. They filled their shit out! So watching Blaze Foley tinker with his guitar felt interminable to me. I loved his lyrics, which reached beautiful levels of poetry at times, and his melodies had a simple grace, but his style was nails on a chalkboard to me. Another slight gripe involved letting the audience know right away the circumstances surrounding his death. I would imagine Hawke made this choice so that we would focus on Blaze's life and music and not his demise. When the tragic sequence unfolds, however, he denies the audience of what would have been a true shocking moment. Ethan Hawke has certainly enjoyed an amazing 2018 with his fantastic performance in FIRST REFORMED and the critical reception to JULIET, NAKED and BLAZE. I appreciate his wanting to bring a Hal Ashby aesthetic back into the filmmaking universe and by using unconventional techniques. This feels like a film being whispered in your ear, and that's not an easy thing to sustain. So I'm gonna blame myself for being the wrong audience for this film and go turn the volume up on anything by Garbage or The Divinyls. Come to think of it, I'd pay good money to see biopics about Shirley Manson and the late great Chrissy Amphlett!
Glenn Gaylord
Super Reviewer
Blaze Quotes
There are no approved quotes yet for this movie.