Bleeders
(1997)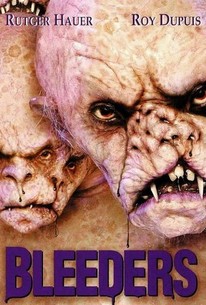 AUDIENCE SCORE
Critic Consensus: No consensus yet.
Movie Info
A family of incestuous Dutch aristocrats emigrates to New England, and 300 years later, their long-lost descendent returns to the ancestral environs to research his rare blood disorder in this low-budget horror flick based on a mothballed Dan O'Bannon script. Orphan John (Roy Dupuis) yearns for more information about his family -- and the genetic disorder that threatens his life. Arriving on the Maine island to which he's traced his ancestry, just as its cemetary is being dug up and relocated due to health-code violations, he and his wife, Kathleen (Kristin Lehman) encounter a gin-soaked old M.D. (Rutger Hauer) who agrees to help them in their search for more information. Meanwhile, residents of the island begin to disappear one by one and it appears that a race of horrific mutants is to blame. Slowly realizing the links between John's family legacy and the attacks, the island's surviving residents band together to fend off the monstrous threat.
Critic Reviews for Bleeders
All Critics (3) | Fresh (0) | Rotten (3)
The pacing is off and the tone is confused, causing the jumpy moments to be spread too thin, allowing for all of the tension to dissipate.
Audience Reviews for Bleeders
½
Bleeders is a very interesting B-Movie. It seems to be universally hated, but I found it to be a quite high-quality affair. The acting was all fine in my opinion, often bordering on dry parody. It's obvious that science took a back seat but with the overall dark humour I think that can be expected. After all this is a film where local hotel doubles as the local funeral home. The Bleeders themselves are hideously brilliant creations. I haven't been freaked out by cinematic monsters for quite some time, but Bleeders managed it. It was something in their design and movement, which was both unsettlingly real and also amateurish, like these freaks would be in the flesh. It avoided cheap scare tactics and also didn't shy away from some braver plot twists. I can see why people don't like it, but not why they think it's bad.
Luke Baldock
Super Reviewer
Bleeders Quotes
There are no approved quotes yet for this movie.