Blended
(2014)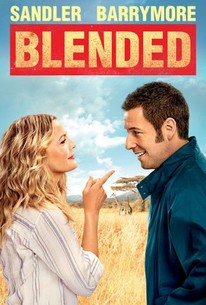 TOMATOMETER
AUDIENCE SCORE
Critic Consensus: Lurching between slapstick and schmaltz without showing much of a commitment to either, Blended commits the rare Sandler sin of provoking little more than boredom.
Movie Info
After a disastrous blind date, single parents Lauren and Jim agree on only one thing: they never want to see each other again. But when they each sign up separately for a fabulous family vacation with their kids, they are all stuck sharing a suite at a luxurious African safari resort for a week in "Blended," the third comedy collaboration between stars Adam Sandler and Drew Barrymore.(c) Warner Bros
News & Interviews for Blended
Critic Reviews for Blended
Audience Reviews for Blended
Although it is far-fetched and awkward at times, "Blended" is funny and delightful in many parts. Barrymore and Sandler both perform better than usual. Terry Crews shines as an over-earnest musician and manages to steal the show at times. And there's a lot of pretty Africa images to boot. This is a perfectly serviceable and pleasant rom-com for a slow weekend.
Christian C
Super Reviewer
½
Perfect chemistry Barrymore and Sandler is back. Great Movie!!! I truly loved this film. It was heart warming, fun and had me laughing several times. Yes, it's totally predictable but that can sometimes be OK. The lower ratings on this film are too harsh. This is actually a sweet comedy where two individuals who initially repel each other grow to like each other. The added touches are the children in this film, who are not only hilarious but also bring out the parental qualities in Drew and Sandler's characters. If you are looking for a feel good movie, with great one liners, Cherry on top due to Drew and Adam Sandler's presence, see this. After a blind date gone horribly wrong, Jim and Lauren agree they never, ever want to see each other again. Well, that's all about to change when the two find themselves and their respective families (including children) all stuck together in one suite at an African Safari vacation spot.
So sue me, I kind of liked this bad movie. It's not without it's faults, and The Wedding Singer it is definitely not, but it has a sweetness which has been missing from Adam Sandler's more recent films. There's gross out humour, but it's at a minimum thankfully, and just about gets away with not being revolting. Drew and Adam just seem to work very well on screen as a couple. Premise is that the pair, Jim and Lauren, who are both single parents, go on a disastrous blind date. Jim takes Lauren to Hooters, drinks her beer and then receives an "emergency" call to get away. Both vow never to see each other again. By a fluke, it turns out that Lauren's best friend is dating Jim's boss. When their relationship hits a hurdle (he has 5 kids she didn't know about) they decide not to use the ticket for an African holiday for "blended" families . You can see where this one is going - unknown to each other, Lauren asks her friend and Jim asks his boss if they can use the tickets, thinking it would be a perfect holiday for their kids. They wind up in the resort together, staying in the same suite as both have lied and said they are the original party. I expected the African bit to be cringeworthy, and it was, but still could have been worse. Somehow I didn't hate it. The story with the teenage daughter who is mistaken for a boy constantly was sweet. It felt like this movie referenced the 80's a lot - for example the awkward girl falls for a guy named Jake. There's a reference to Weird Al and it also echoed The Wedding Singer. The scene with Jim and Lauren's ex was very similar to the one with Julia and Lynda. Even Alexis Arquette appears - in drag as a woman. It's a bit too long and the last scene was unnecessary - the movie would have been sweeter if it had have ended with the kiss and not gone for laughs. It also gets a bit cloying with the family values at the end. I could have done without the shots of Lauren's friend covered in kids and what I hope was chocolate all over her cheek. However it is a family comedy, so I can acknowledge that others may find that sweet. I would watch this again.
Nicki Marie
Super Reviewer