Bless the Child
(2000)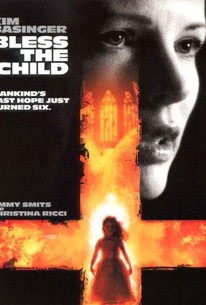 Movie Info
In this supernatural horror story, Jenna (Angela Bettis), an unstable young woman, gives birth to a girl named Cody who proves to be autistic; unable to care for her properly, she turns Cody over to her sister, psychiatric nurse Maggie O'Connell (Kim Basinger). Maggie raises Cody as her own, but when the child (now played by Holliston Coleman) turns six, Jenna and her new husband Eric (Rufus Sewell) forcibly take back the child. Maggie believes Jenna and Eric are not fit parents, but when she takes the matter up with detective John Travis (Jimmy Smits), they discover that a number of children born on the same day as Cody have also been abducted recently. Even worse, it seems that Cody may now be in the hands of Satanists who, in accordance with Biblical prophecy, believe the little girl may be mankind's last line of defense against ultimate evil. Based on a novel by Cathy Cash Spellman, Bless the Child also stars Christina Ricci and Ian Holm.
News & Interviews for Bless the Child
Critic Reviews for Bless the Child
Audience Reviews for Bless the Child
Wow, this is a rarity: a modern-day film in which the Christians (mostly nuns in this story) are the "good guys" and the New Age advocates are the devil-like "bad guys." Kim Basinger makes an outstanding performance in this supernatural film about a woman's battle to save her beloved niece from an unspeakable evil. There is some very good suspense here, especially at the end and some shocking horror scenes of violence. Good vs Evil, and it's done well for me. And I thought Rufus Sewell's performance as Stark is well acted and convincingly evil. I see Christina Ricci appeared a very small part in this movie. Director Chuck Russell makes a good attempt to throw in horror and chills at the right moments and even throws in some great effects such as the Devil's manifestation in to a throne and even a rolling head for fans of a little gore.
Dean McKenna
Super Reviewer
Strong permofance by Kim Berenger. Great Movie with great casting. I like Rufus Sewell, he can play anything and I never feel like he is acting.
½
I was pleasantly surprised at how engaging this movie was. I normally don't like Kim Basinger of Rufus Sewell, but they were both pretty good in this really rather chilling movie. I really like movies that deal with the human aspect in the occult. Christina Ricci's character really added to it as well. I might have liked a little less simpering from miss Kim, but the child actress mkore than made up for her.
Emily Armstrong
Super Reviewer
Bless the Child Quotes
There are no approved quotes yet for this movie.