Blind Chance (Przypadek)
(1989)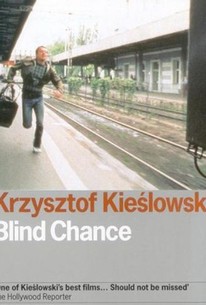 Blind Chance (Przypadek) Photos
Movie Info
In this Polish film, Bogislau Linda plays a middle-aged man at a crossroads of his life; whatever choice he makes for his future has the potential of ending in disaster. Director Krzysztof Kieslowski contrives to permit Linda to sample each of three possible "futures" from three different points of view.
Critic Reviews for Blind Chance (Przypadek)
Audience Reviews for Blind Chance (Przypadek)
Blind Chance is very much in the vein of the other Kieslowski films: well-shot, very sensuous, dramatic and wistful score, frequent use of symbolism. I feel like if I understood the symbols, Polish culture and history, then I would rate this higher. Also, be warned that the DVD transfer is poor and the colors are often awful. I suppose it is a testament to the film's aesthetic qualities that I still found Blind Chance a pleasure to view for them alone.
Robert Brogan
Super Reviewer
½
Made in 1981 but suppressed for several years, this early Krzysztof Kieslowski film is more interesting for its structure than for its specific plot details (which lack resonance for viewers like me who aren't so familiar with Polish politics). The central character is Witek, a young medical student feeling adrift after his father's recent death. Three alternate stories follow, hinging upon whether he successfully catches a train to Warsaw. This unusual gimmick obviously influenced the '90s films "Run Lola Run" and "Sliding Doors," which is why every darn "Blind Chance" review brings up this similarity. In the first sequence, Witek barely catches the train and meets an older man who steers him toward working for the national Communist party. In the second, he misses the train, is arrested after fighting with a security guard and ends up joining the anti-Communist underground. In the third, he misses the train, avoids the fight and instead becomes a non-partisan doctor. These situations lead to climaxes of varying drama. Each of the stories also comes with a different romantic interest. A childhood sweetheart, a friend's sister and a fellow doctor all draw Witek's affections. The film may require backtracking to recall how some other characters figured in the preceding realities. The idea of one's life path being switched in a random moment is fascinating, but "Blind Chance" has two chief problems. First, Witek has a rather vague, flavorless personality. Second, the film's pacing seems uneven because the three stories are not given equal emphasis (the segments run roughly 50, 35 and 20 minutes). A more minor glitch: A crucial special effect is horribly executed, no doubt due to budget limitations. "Blind Chance" is not on the level of more famous Kieslowski works such as "The Double Life of Veronique" and "Red," but its polished cinematography and studied introspection are typically compelling. And hey, there's an exciting "Easter egg" of sorts if you happen to be a juggling fan.
Eric Broome
Super Reviewer
[font=Century Gothic]In "Blind Chance", Witek(Boguslaw Linda) is a young medical student whose domineering father died just a few days previously. He is now at a crossroads of his life, unsure if he still wants to study medicine which his father always wanted him to. He runs to make the Warsaw train...and three separate timelines result...[/font] [font=Century Gothic]A) Witek makes the train. After attempting to help a prisoner escape, he befriends Werner(Tadeusz Lomnicki). Werner puts him into contact with Communist party officials who are able to employ Witek.[/font] [font=Century Gothic][/font] [font=Century Gothic]B) Witek just misses the train, getting into an altercation with a policeman on the platform. He is sentenced to thirty days parole and a suggestion of community service where he meets Marek(Jacek Borkowski), a member of the university underground.[/font] [font=Century Gothic][/font] [font=Century Gothic]C) Witek misses the train and the policeman but renews the acquaintance of Olga(Monika Gozdzik) who is at the train station to see him off. Their friendship leads to sex which leads to pregnancy which leads to marriage.[/font] [font=Century Gothic][/font] [font=Century Gothic][/font] [font=Century Gothic]Directed by Krzysztof Kieslowski, "Blind Chance" is a triptych of short films about the paths a person's life can take. It is not only an intelligent meditation on the capricious nature of fate but also on the limits of freedom in a society that is anything but free.[/font] [font=Century Gothic][/font] [font=Century Gothic]Note: "Blind Chance" would inspire later films including "Run Lola Run"(which I loved) and "Sliding Doors"(which I haven't seen). [/font]
Blind Chance (Przypadek) Quotes
There are no approved quotes yet for this movie.