Blind Fury
(1990)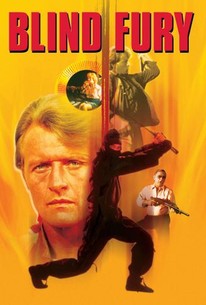 Movie Info
Rutger Hauer plays a blinded Vietnam vet who also happens to be an expert swordsman. Twenty years after the war, Hauer finds himself waist-deep in gangsters when he tries to help the son (Brandon Call) of an old army buddy. Along the way, he reforms an ex-comrade in arms (Terrance O'Quinn) who was responsible for the accident that blinded him. Based on a series of Japanese films about a blind samurai (released under the blanket title of Zatoichi).
Critic Reviews for Blind Fury
Audience Reviews for Blind Fury
Refashioning Zatoichi into a zany, Americanized B-movie turns out to be a rollickingly fun idea. Rutger Hauer, the Dutch automaton, is a Vietnam veteran who lost his sight during the war and was trained by villagers on the art of being a samurai warrior. The swordplay is played for flippant silliness in a bar where Hauer accidentally bludgeons thugs with his cane but a climactic duel with an Asian swordsman is extremely fast-paced and exhilarating. Cheesy moments are inherent in such high-concept material but Hauer is sardonic ("I also do circumcision") and briskly strolls through the scant plot.
Cory Taylor
Super Reviewer
The definition of a 90s action movie, so bizarre-yet-cool. Rutger Hauer essentially plays Daredevil, too bad this wasn't Daredevil because he would've made it amazing. This has some negative aspects, like an annoying kid and too many cheesy antics. However, the good out ways the bad. At the end of it all, it's fun, brutal and stylish. The level of Hauer Power is at an all time high and if this was a judge of his acting it would surely get infinite stars.
Conner Rainwater
Super Reviewer
½
21/03/2010 (TELEVISION) It's a fun movie to watch with the family and it keeps entertaining the whole room with a nice story, cheap but well timed comedy and reasonable action to go with it. This would of got 5 stars if I was still eight years old, I mean these are the films that I kept rewinding on VHS to watch over and over again but now... I don't feel the same, but I'll still consider it a classic in my library for all the enjoyment it gave me as a kid. Its not a 'Must See' but it puts on a good show.
EightThirty .
Super Reviewer
Blind Fury Quotes
There are no approved quotes yet for this movie.