Blithe Spirit
(1945)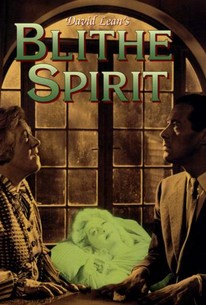 Movie Info
The Noel Coward/David Lean combination which turned out such dramas as Brief Encounter and This Happy Breed sets its sights on the viewer's funny bone with Blithe Spirit. Rex Harrison plays a novelist, newly married to straight-laced Constance Cummings. Via a seance, Harrison accidentally summons the spirit of his first wife, Kay Hammond. Believing that Hammond wants to ruin his marriage, Harrison enlists the services of local medium Madame Arcati (Margaret Rutherford) to exorcise Hammond's spirit. She fails, and in time, Harrison's second wife is killed; now he has two playful spirits on his hands! Technicolor is used throughout Blithe Spirit, with the ghosts' shimmering paleness providing contrast to the plain, everyday colors of Harrison's conservative country home. Blithe Spirit was later transformed into the Broadway musical +High Spirits, with the original script bent out of shape to turn the character of Madame Arcati (played by Beatrice Lillie) into the leading role.
Critic Reviews for Blithe Spirit
Audience Reviews for Blithe Spirit
½
Considering the strength of the source material, its surprising the film feels so stale. The cast is alright, but one gets the sense that Lean wasn't that invested in directing this movie.
Alec Barniskis
Super Reviewer
My final David Lean, Noel Coward adaption I viewed was Blithe Spirit. I fell in love with this movie. There's no paranormal movie quiet like this. It's elegant in humor and moves quickly. There are no scares, it's more in depth on the idea of the other world, and a humorous view of how life is after you die. David Lean morphed the dead with the living, when an estranged wife comes to "visit" her husband and his second wife. She terrorizes the family through this, and a quote brought up early in this movie really summarizes it well. " It's discouraging to think how many people are shocked by honesty and how few by deceit". Not only is it a great line but it is perfect in the film. Harrison, Cummings, and Hamond have great on screen chemistry, making this an amazing feel good comedy.
Daniel Dolgin
Super Reviewer
Fun filled and witty this is well acted by all and breezily directed but the whole thing is stolen by the wonderfully dotty Margaret Rutherford.
Blithe Spirit Quotes
There are no approved quotes yet for this movie.