Dave Chappelle's Block Party
(2006)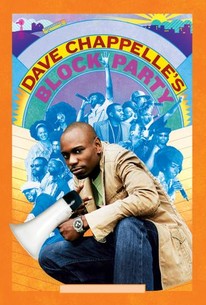 TOMATOMETER
AUDIENCE SCORE
Critic Consensus: Dave Chappelle's Block Party is a raucous return to the spotlight for the comic, buoyed by witty, infectious humor and outstanding musical performances.
Dave Chappelle's Block Party Photos
Movie Info
A genuine crowd-pleaser, "Dave Chappelle's Block Party" spotlights comedy superstar Dave Chappelle as he presents a Brooklyn neighborhood with its very own once-in-a-lifetime free block party. The unprecedented combination of comedy and music was shot on location. In addition to Mr. Chappelle performing all-new material, the stellar roster of artists includes Kanye West, Mos Def, Talib Kweli, Common, Dead Prez, Erykah Badu, Jill Scott, the Roots, Cody ChesnuTT, Big Daddy Kane, and -- reunited for their first performance in over seven years -- the Fugees.
News & Interviews for Dave Chappelle's Block Party
Critic Reviews for Dave Chappelle's Block Party
Audience Reviews for Dave Chappelle's Block Party
½
Dave Chappelle: This is the concert I always wanted to see! Before the creative differences Dave Chapelle had concerning the future of his show, he decided to fund a large block party in New York, inviting many music artists that he is friends with as well as many people from his home town in Ohio, as well as a number of people from the area that could get hold of a ticket. What occurred was a large gathering of people, documented by director Michel Gondry. Not just about Chappelle's comedy. Not just about the concert music. Mainly about a lot of people getting together and having a good time together and it shows. Towards the end Chappelle says that this was the best day of his career, and you can see that he's sincere. It is such a good movie in terms of having a group of people coming together and performing as friends as well as seeing an audience all standing together, in the rain no less, and having a great time, no fights or problems, just a fun concert with Dave Chappelle as the MC. There are some very funny parts in between the acts involving little things Chapelle does to get the audience going. There are very good musical performances from the alternative hip-hop crowds that aren't the terrible pop-rap that is heard at all the parties, instead it's more meaningful and more quality beats. The lineup is awesome for the right crowd: The Roots, Mos Def, Talib Kweli, Common, Erykah Badu, The Fugees, Jill Scott, Dead Prez and Kanye West. The idea is to have everyone enjoy it regardless of if hip-hop is there preference or not. I also can't stress how nice it is just to see Chapelle interacting with various people. He's not turned on, he just acts like a regular guy who is just generally funny. Scenes cut in throughout, showing Dave practice in a studio with the backup band, making them laugh is just as much fun as the rest of the movie. Quality film, one of my favorites from 2006. Dave Chappelle: Bringing me to my next point, Comedians and Musicians are very much connected. Comedians think that they can sing, while musicians think they're funny. For example, Mos Def - funny guy, Jamie Foxx - talented piano player and singer. I'm mediocre at both and yet have managed to talk my way into a fortune.
Aaron Neuwirth
Super Reviewer
The guy in the video store warned me..don't rent the Block Party! It isn't a Chappelle comedy show. Well I knew that but I was still disappointed. Chappelle attempts to bring all the influences in his life to one big block party and descended into a cheaply filmed concert film.
John Ballantine
Super Reviewer
½
[font=Century Gothic]"Dave Chappelle's Block Party" is an entertaining concert film directed by Michel Gondry about comedian Dave Chappelle throwing a free block party and concert in the Bedford-Stuyvesant neighborhood of Brooklyn on September 18, 2004, and inviting old friends and a college marching band from his hometown of Dayton, Ohio. Performers include Erykah Badu, Kanye West and the Fugees. Chappelle's intention is to give something back to the community while also bringing rap music to a broader audience.(It worked at least for this reviewer, who was also curious about Mos Def's rapping after seeing him act in a few movies. Look at it this way - I was planning on referencing Fleetwood Mac when discussing the marching band.) Throughout, Chappelle's engaging presence keeps things moving but the editing interrupts the flow often with too much time given to preparation and background. And the eccentric couple living in the abandoned building are interesting but not worth spending a great deal of time on and probably not representative of the neighborhood, anyway.[/font]
Dave Chappelle's Block Party Quotes
There are no approved quotes yet for this movie.