Blonde Venus
(1932)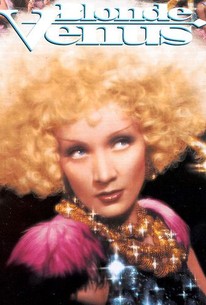 Movie Info
In this film, Marlene Dietrich stars as Helen Faraday, a German cabaret singer in the States whose husband, Ned, falls ill. Struggling to afford his care and to support their son Johnny, she works at a nightclub and succumbs to the advances of wealthy playboy Nick.
Critic Reviews for Blonde Venus
Audience Reviews for Blonde Venus
Marlene Dietrich, Cary Grant, Herbert Marshall, and director Josef von Sternberg ... it's really quite a heavyweight group contributing to 'Blonde Venus'. The film opens with Dietrich meeting Marshall after he happens upon her skinny dipping in a pond in Germany, and the next thing you know, they're married with a young son (Dickie Moore) and living in America. The trouble is, Marshall needs medical treatment that can only be obtained in Germany, and when she takes a job in a nightclub to help raise some money, she catches the eye of a rich playboy (Cary Grant). The two have an affair, and when Marshall discovers it upon returning and threatens getting custody of their son, Dietrich flees with the boy. There are several wonderful moments, and despite the flaws in the film, they carried the day for me. You have, of course, von Sternberg's tight shots on his actors, and the effects with shadows he employs, and with these stars, you get that larger than life feeling. I loved Dietrich's conflicted conversations with Grant about still loving her husband, and her remorse and honesty with him when he returns, ending with the line "I'm here, if you'll have me," which she delivers so perfectly, with such power in her simplicity. She also has a wonderfully understated scene at the train station when she must give up the boy, a heartbreaking and emotional moment which is amplified by her stillness. Of course he's right to consider divorcing her, but we see the double standard in play - she's a loving mother, a dutiful wife, works to provide income, but it seems it's more unforgiveable for her to have committed adultery than it would be for a man, and to use her sexuality to help get by. Men are like wolves who circle - the owner of a diner who leers while saying "You going to wash my dishes?" with a lascivious hint, and the policeman following her who she feels she must seduce ("What are you doing down here, big boy?"). It's great to see Cary Grant at 28 in his first year of filmmaking, and he plays the bad guy well. Herbert Marshall has some nice moments too, including the confrontation with Grant towards the end in which he says "I can throw money around the same as you can" with power in that fine, polished accent of his. Lastly, it was nice seeing Hattie McDaniel in a few scenes. The biggest problem with the film is the musical number 'Hot Voodoo', which opens with white women in blackface dancing out with a gorilla. The racism it represents is indefensible, and my heart sank when I saw it. Dietrich of course emerges from the gorilla suit and sings lines that titillate ("Hot voodoo, burn my clothes, I want to start dancing, just wearing a smile") as well as make us cringe ("That African tempo has made me a slave"). Any other criticism of the film pales in comparison to that, but I thought the middle of it lost momentum as well, and the ending was a little syrupy. I may be rounding up a bit here, and I'd only recommend it with reservations, but all in all I enjoyed it.
Antonius Block
Super Reviewer
½
one of the odder dietrich/sternberg collaborations, this one juxtaposes the decadent high life against comfortable domesticity. i personally take issue with the choice she made haha. includes the famous gorilla suit number and cary grant
Stella Dallas
Super Reviewer
½
I didn't get this movie. If people would have taken more time to discuss their problems the story would have been a lot different. It was just stupid to me, but the acting was good, so I didn't rate it so low.
Blonde Venus Quotes
There are no approved quotes yet for this movie.