Blood and Bone
(2009)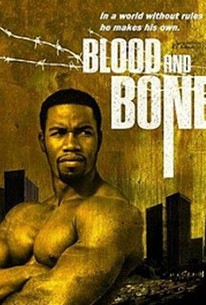 AUDIENCE SCORE
Critic Consensus: No consensus yet.
Movie Info
Director Ben Ramsey and writer Michael Andrews team for this martial arts action thriller concerning a mysterious drifter (Michael Jai White) who becomes ensnared in the seedy world of underground street fighting. In the back alleys of Los Angeles, life is cheap and to go against the grain is to take on the most powerful criminal organization on the West Coast.
Critic Reviews for Blood and Bone
All Critics (1) | Fresh (1) | Rotten (0) | DVD (1)
Michael Jai White makes a convincing case here that he deserves future consideration as an action star on the order of a Vin Diesel or a Sylvester Stallone.
Audience Reviews for Blood and Bone
An extremely intense, stylish, pulse-pounding and wickedly action-packed flick with some awesome and cool as hell martial arts sequences. A razor-sharp, wickedly cool and hard-rocking thrill-ride of a movie. It's pure adrenaline-pumping action from start to finish. A hard-hitting, bone-crunching and blood-thirsty action movie. A explosive knockout. A very smart and kick-ass movie. A very strong and very compelling action movie. An impressive cast of actors that all deliver great and compelling performances. Michael Jai White is at his best, bringing in pure dramatic intensity and expert crafted martial arts skills to his performance, he is truly an action hero to route for. Eamonn Walker is explosive. Julian sands is terrific.
Well I had no idea Michael Jai White was a martial artist or kickboxer, I last saw him in 'Undisputed 2' but before that I only really know him from 'Spawn', looking at his career he hasn't done that much to shout about really. Now all of a sudden I've seen him in two martial arts films and it looks like he's making another, I never got a whiff of his martial arts capabilities in 'Spawn' and he wasn't as big as he is now so some major work out has been going on hehe As for this film its your typical JCVD vehicle really accept its for Jai White, the plot is your average new guy on the block who can kick the crap outta all comers and gets to be the big dog and take on the head big dog for lots of cash....guess who wins. Its nothing special and not too well acted either but lets face it you only watch films like this for the fighting (just like most JCVD films) and once again you get some top notch martial arts here boyyo. Jai White is built like a tank right now and the only person to come close would be Scott Adkins in my opinion, this film has some very good yet short fights that show Jai White to be a Wesley Snipes ass kicker for sure haha very very impressive but maybe not quite as impressive as Adkins for gymnastic grace and skills but its darn close. One thing is for sure these guys would kill JCVD I reckon, their moves make Mr Van Damme look quite quaint and dated frankly, when JCVD attempted the 'Guile flashkick' in 'Street Fighter' it was a trick of the camera, Adkins and White seem to be able to actually do moves like that for real!! Anywho....this film is your basic 'beat em up' with nothing new to offer but has excellent fight sequences and that's all you want really in a film like this, highly enjoyable if rather totally unoriginal :)
Phil Hubbs
Super Reviewer
½
I'm surprised to see Michael Jai White, a real-life martial artist, kicks ass in the stunningly arranged streetfight scenes. It actually resembles Jean-Claude Van Damme's Wrong Bet. Acting wise, Jai White is very good as the stoic Bone, even his fight sequences are impressive and fast. The film's top acting honours, however, go to Eamonn Walker as the gangster who loves his dogs and refuses to curse. He is a real revelation. Julian Sands puts in about 10 minutes as the stereotypical "evil white guy" and he has quickly morphed into mid-to-late 90s Malcolm McDowall.
Dean McKenna
Super Reviewer