Blood and Sand
(1922)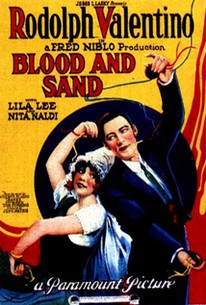 Movie Info
Juan Gallardo (Rudolph Valentino) is a shoemaker who becomes a national hero by way of his prowess as a matador in this drama. His success wins the heart of Carla (Lila Lee), who marries the charismatic bullfighter. Juan soon falls for Doña Sol (Nita Naldi), a wanton widow with a penchant for passion. Carla learns of the affair but vows to stand by her man. Juan is mortally gored by a bull when he sees Doña Sol in the crowd with another man. He is taken to the chapel at the stadium where he suffers in agony from his fatal distraction. Perennial villain Walter Long turns in another fine performance as the heavy Plumitas. Valentino failed to attend the premiere of the film when he believed the studio cut corners on the production cost. Judicious editing by Dorothy Arzner saved the studio a fortune by filming in the studio instead of in Madrid as originally planned. Arzner went on to become the most prominent female director of the 1930's.
Critic Reviews for Blood and Sand
Audience Reviews for Blood and Sand
This movie was boring, but at least I learned that people were concerned about animal cruelty in the twenties. If you like bull-fighting and sappy romance, though, you will enjoy this.
Blood and Sand Quotes
There are no approved quotes yet for this movie.