The Reunion
(2011)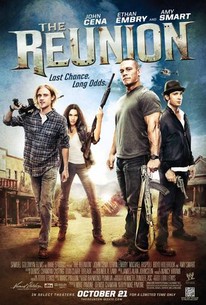 Movie Info
The Cleary brothers, Sam (John Cena), Leo (Ethan Embry) and Douglas (Boyd Holbrook) take dysfunctional families to a new level: Sam and Leo have grown up hating each other and neither likes their juvenile kid brother, Douglas, to whom they've only recently been introduced. The three boys share the same father, but all have different mothers. Their father died a rich man and when they're brought together by their sister Nina (Amy Smart) to learn which one of them will inherit the old man's fortune, they are handed an unpleasant surprise. A requirement of the will is that the three estranged siblings go into business together as bail bondsmen. Their first job takes them into the mountains of Mexico where they encounter a drug lord and uncover a kidnapping plot, masterminded by an embittered entrepreneur (Michael Rispoli) that will endanger them all. -- (C) Samuel Goldwyn
Critic Reviews for The Reunion
Audience Reviews for The Reunion
½
The film wasn't bad, but it wasn't great either. I felt like I was watching a TV Show pilot. The film feels like Four Brothers meets The Rundown. One problem that I had with this film, was that some actors felt miscast. I thought Cena felt out of place here. Ethan Embry, Michael Rispoli, Gregg Henry, and Amy Smart are all fine here.
A total blast. A fun, thrilling and explosive action-packed adventure. A smart, sharp and wickedly funny movie that just keeps you entertained. A great buddy action-comedy in the spirit of Four Brothers and The A-Team. A great movie to watch. John Cena, Ethan Embry and Robert Boyd Hollbrook are just great together, sharing a great chmeistry that works well for their characters and the material of the film. It packs hard punch as well as big laughs, big action and big heart. A solid piece of pure kick-ass entertainment and fun. Action films with character development like this dont come around to often
The Reunion Quotes
There are no approved quotes yet for this movie.