Blood for Dracula
(1974)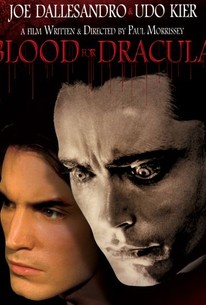 Movie Info
Director Paul Morrissey's companion piece to "Andy Warhol's Frankenstein." Udo Kier. Mario: Joe Dallesandro. Marquis: Vittorio De Sica. Marquise: Maxime McKendry. A.k.a. "Andy Warhol's Dracula."
Critic Reviews for Blood for Dracula
Audience Reviews for Blood for Dracula
Paul Morrissey's "Blood for Dracula" is a campy, entertaining romp of gore, sex and willful overacting. Unlike most vampires, Udo Kier's Count Dracula is a sweaty, sickly waif who wouldn't scare a child if not for his huge, piercing eyes and intense manner. His attendant Anton (Arno Juerging) is actually more intimidating and is quite capable of pushing his master around. This Dracula only craves the necks of virgins (infamously pronounced "where-gins" in Kier's heavy German accent) and, in fact, "impure" blood makes him grotesquely regurgitate. He has worn out his welcome in his Romanian homeland, so he and Anton journey to Italy, counting on Catholic chastity to yield great rewards. They soon stop at the manor of the Marquis DiFore (legendary director Vittoria de Sica), who is blessed with four lithe, beautiful daughters. The family's finances have seen better days, so the Marquis and his wife (Maxime McKendry) are eager to hear the wealthy Count's cover story about seeking a mate. Dracula begins screening the daughters, but does not realize the two most eligible ones are casual libertines who are steadily ravaged by the estate handyman Mario (Joe Dallesandro, of course). The dire results of the Count's "taste tests" are ridiculous, bounding over the line between horror and perverse comedy. The youngest daughter may be just what he's looking for, but Mario -- a surly Communist who views the girls as "meat" even more than the Count does --- also has his eyes on her. Meanwhile, he and the Marquis are developing suspicions about the Count and his precious coffin (allegedly carrying the remains of a loved one). "Blood for Dracula" (sometimes called "Andy Warhol's Dracula" to milk the notoriety of its co-producer) was originally rated "X" but does not seem so shocking today -- the most explicit moments are a shot of Dallesandro's thrusting buttocks and a full-frontal view of a girl standing in a bathtub. The climax is gruesome, but no Monty Python fan will be able to keep a straight face. The script's political resonances are not as strong as Morrissey hopes, but photogenic women, elegant decor and dramatic lighting add up to a lovely-looking film with plenty of sensory titillation. And don't miss director Roman Polanski's unexpected, amusing cameo.
Eric Broome
Super Reviewer
½
Superior to Flesh For Frankenstein, this is a great second film for Paul Morrisey's horror double feature. There are some truly amazing images in this one. Udo Kier is perfect as Dracula.
Graham Jones
Super Reviewer
½
With a shortage of 'wirgins' in Romania, Count Dracula travels to Italy in search of good, pure Catholic girls to feast on, installing himself in the dilapidated mansion of an aristocrat with four unmarried daughters, ostensibly as a suitor for one of them. Since two of the daughters are slatterns and any blood but that of a virgin makes the count violently ill, the scene is set for some nice comic episodes. Although the acting is generally atrocious, "Blood for Dracula", unlike the terrible "Flesh for Frankenstein", has a number of clever touches which breathe new life into the vampire yarn, for instance the count applying make-up to disguise his sickly pallor. Dominique Darel, Silvia Dionisio and Stefania Casini, as three of the daughters, are very easy on the eye, and Roman Polanski makes a brief appearance in a scene which prefigures one in his own "Bitter Moon". Surprisingly well photographed and scored, too.
Blood for Dracula Quotes
There are no approved quotes yet for this movie.