Blood Heat
(2004)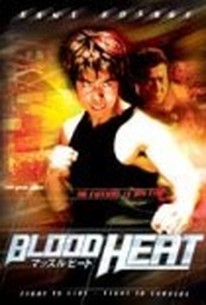 AUDIENCE SCORE
Critic Consensus: No consensus yet.
Movie Info
The title of this action thriller from director Ten Shimoyama refers to a designer drug that has overtaken the streets of Tokyo in the not-too-distant future. In the underground world of fight clubs, the drug is used for its combined effects of super-strength and unbridled rage. When a local cop and a soldier from the United States team up to put an end to Blood Heat's reign, they soon find themselves plunged into a violent world they may never escape. ~ Matthew Tobey, Rovi
Critic Reviews for Blood Heat
There are no critic reviews yet for Blood Heat. Keep checking Rotten Tomatoes for updates!
Audience Reviews for Blood Heat
½
This is your typical run of the mill Japanese action adventure. Drug trafficking and underground fighting. There is nothing at all special about this film. If you think about it, it feels like a Steven Seagal movie in Japan. The only difference is that the good guy takes a beating.
As you've probably figured out, the story is pretty flat and unoriginal. The only good thing about this is that it is easy to follow, but then again it also becomes boring. Even with the brief 90 minute runtime you find yourself hoping for the next scene to come. As with most other similar films, you have the slow dramatic parts with intermediary action. The main character of Joe Jinno feels like Steven Seagal. Short simple dialogue and a** kicking. Yes, the name of Joe Jinno isn't entirely Japanese. That is because this movie uses a combination of English, Japanese, and a little bit of Chinese for the dialogue. The English is spoken rather clearly and better than in other Asian films.
The story may not be great but this film isn't a total loss. The action is pretty good. Kane Kosugi shows why he is one of the better martial artists out of Japan. His fight sequences are fast and furious. Fast as in Jet Li, Donnie Yen, and Jackie Chan fast. It makes you wonder why he isn't utilized more in the DOA film. While the action is sweet, it does get a little repetitive, especially at the ending. At least they throw in a sledgehammer fight at the end.
The acting isn't anything special, but it isn't horrible. Nobody really stands out in this film except for Masaya Kato, from Aragami, who does a decent job without the overacting.
If you want to see good martial arts and don't care about an entertaining story then this is exactly what you are looking for.
Blood Heat Quotes
There are no approved quotes yet for this movie.