Blood Into Wine
(2010)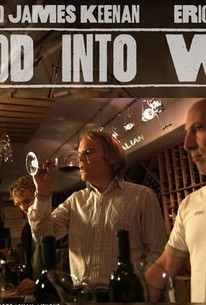 Movie Info
"Blood Into Wine" is the widely anticipated documentary that shares the story of Tool/A Perfect Circle/Puscifer front man Maynard James Keenan and his mentor Eric Glomski as they pioneer winemaking in the hostile deserts of Arizona.
Critic Reviews for Blood Into Wine
Audience Reviews for Blood Into Wine
Average documentary about Tool vocalist Maynards James Keenan endeavor in operating his own winery in Arizona. I really thought that this film, though interesting lacked in really giving wine enthusiasts something worthwhile to watch. This is a film more for fans of Tool, and though I really love Keenan's music, I found this film to be lacking. For fans, this film will certainly give you another aspect of Maynard's life. The process that is used in making wines is documented here, but like I said, there is something lacking here to really make this documentary stand out. I liked the documentary, but I've seen better films in the genre. If you're expecting a great documentary, you'll be sadly disappointed. This is a movie strictly for Tool fans, and even then, this may be a disappointment. For a wine making documentary, there should be a much better film than this. I felt that this one just touched the tip of the iceberg of wine making, The film doesn't go in depth into the process, which is what I wanted, and it opens a door into Keenan's other passion other than music. Overall, good, but it should have been much better. Blood Into Wine is only an average documentary on wine making, and it's one of those documentaries that needed to be more elaborate in terms of its subject, and considering that Wine making is such a passion for many people, you'd expect a great movie. Good for what it is, but it's not the definitive wine making documentary. Luckily Tool is a great band, and it's interesting to see this part of Keenan's life, but in the end, that's all this film is.
The half of this film that is an actual, serious documentary, is thoughtful and endearing, while the attempt at offhand humor bleeds false and uninteresting. Feeling padded to reach the 90 minute mark, this film would have worked much better as a shorter film. The lower thirds introducing each person interviewed were the most creative graphics I have seen in a very long time, especially in a documentary, and they added the only truly unique feel to the film. Informative and meaningful, Blood Into Wine follows Maynard James Keenan and his wine-making venture quite wonderfully.
Christopher Haskell
Super Reviewer
A meandering documentary that never finds its center. It attempt to do this humorous talk-show bit that never becomes humorous. If after 15-20 minutes your bored it doesn't get better. The wine and his life are interesting, but it never really gets to any interesting stuff.
Bill Cavros
Super Reviewer
Blood Into Wine Quotes
There are no approved quotes yet for this movie.