BloodMonkey (Blood Monkey)
(2008)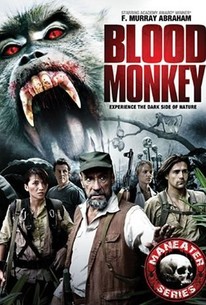 AUDIENCE SCORE
Critic Consensus: No consensus yet.
BloodMonkey (Blood Monkey) Photos
Movie Info
Six American graduate students studying apes in the African jungle discover a new species of killer chimpanzees that could prove to be the most formidable threat ever known to humankind. Upon first spotting this bizarre new breed, Greg, Dani, Amy, Josh, Sydney, and Seth were all assured by their highly-esteemed professor (F. Murray Abraham) that they have all been part of a discovery that could change the very face of science. Survival instinct soon takes over, however, when a typical study in animal behavior becomes a brutal struggle to escape a relentless predator with unparalleled strength and speed. As the serenity of the wilderness is suddenly shattered by the blood-curdling screams of man, Mother Nature proves just how little we truly understand about the savagery of the jungle.
Critic Reviews for BloodMonkey (Blood Monkey)
All Critics (1) | Fresh (0) | Rotten (1)
Surely one doesn't toss something called Blood Monkey into their DVD player with the expectation of something brilliant in return, but there's stupid and there's stupid.
Audience Reviews for BloodMonkey (Blood Monkey)
A film so stupid there are no monkeys in sight. There are apes, which look like your average CGI gorillas. The film has a cast of annoying characters, from the whiny monkey fodder, to ACADEMY AWARD WINNING F. Murray Abraham pretty much screaming "I'm a psychopath". It's annoying and confusing, especially the urinating scene. The monkey/apes/whatevers are disappointingly absent throughout the entire film. They manage to show up just in time for a five second shot, in a Blair Witch style ending. It's a shame the film forgot the monkeys and the fun.
Luke Baldock
Super Reviewer
It is a poor movie, but it can be watched. The movie lacks tension - and as such it is not a 'whole film' - the lighting, music, atmosphere, do not co-conspire to create a tense environment - there is no 'mood' to the film which keeps the viewers locked in. The young student actors are all pretty and none really leave a lasting impression aside from their good looks. This was clearly a low budget movie, with the monsters staying out of eye-sight until the end of the movie (which could well have been a good move considering the paltry CGI employed).
Steven Vincent Gee
Super Reviewer
A movie of some interest, that somewhat resembles a bit of the story plot, 'Congo'. F Murray Abraham stars in this movie on a search for a rare gorilla find. Worth seeing.
BloodMonkey (Blood Monkey) Quotes
There are no approved quotes yet for this movie.