Blood Out
(2011)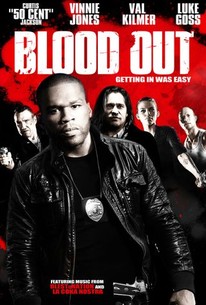 AUDIENCE SCORE
Critic Consensus: No consensus yet.
Movie Info
A small town sheriff retires his badge to avenge his brother's murder, but finds himself tempted into the criminal lifestyle by a beautiful killer in this gritty crime thriller. Dejected when veteran detectives write off his brother's murder as gang related, Sheriff Michael Spencer (Luke Goss) decides to take the law into his own hands. Posing as a violent, tattooed gangster, he quickly works his way up through the criminal ranks. In the process, Michael begins to lose his own identity, eventually becoming romantically entangled with a ruthless temptress (AnnaLynne McCord), and ultimately facing off against the leader of a powerful criminal empire (Val Kilmer). Vinnie Jones and Curtis "50 Cent" Jackson co-star. ~ Jason Buchanan, Rovi
Critic Reviews for Blood Out
All Critics (2) | Fresh (0) | Rotten (2)
...a dull, almost aggressively unwatchable straight-to-video actioner.
It's hard to execute a genuine emotion with Hewitt reducing every scene to hackneyed mush, playing into genre clichés any chance he gets.
Audience Reviews for Blood Out
The results are in: the Ultimate Bros vs 50 Cent face-off goes down in Blood Out, a vigilante blank which includes spaced Val Kilmer pretending to be Gary Busey. After his ne'er-do-well brother is executed by the drug dealers he works for (naturally, Vinnie Jones administers the kill shot), clenched cop Michael (Luke Goss) hands in his badge, swears murderous revenge - and gets slapped around by detective Fitty. Former Bros member Goss does repay Mr Cent, but we're still left shortchanged by a violent C-grade waddie through Michael infiltrating his bro's gang. Easier than how quickly this total stranger fights his way into the inner sanctum is the way you will walk away from such thickheaded, fist-brained filler.
Dean McKenna
Super Reviewer
½
A stylish and hard-boiled action-thriller. A strong, intense and ambitious movie from first time filmmaker Director, Jason Hewitt. An explosive adreneline-rush. It`s sharp, cool and wickedly entertaining. Luke Goss gives a strong and effective performance. Val Kilmer is teriffic. Tamer Hassan is electric. Vinnie Jones is intense. It delivers great performances all around from its great all-star cast. A great and very surprising movie that has some gritty characters.
½
American film with most of the main roles going to British actors, well I say actors but none of them are really proper actors hehe Vinnie Jones, Tamer Hassan and Luke Goss, all Southerners and all pretty hard..accept Goss. 50Cent appears briefly despite being billed as a main player whilst Kilmer is miscast as a big drug lord. Starts out pretty well with some good tense action and a solid revenge plot building in the same type of vain as your average Seagal or JCVD flick. Allot of hand held cam work adds to the atmosphere as Goss goes on a one man army kick ass spree to avenge his brother and it does feel gritty and rough if alittle glossy with that Hollywood touch, not as bleak and tough as '187' or 'Harsh Times'. Things do get silly unfortunately as the film progresses towards the end, its kinda hard to believe that the stringy wiry Goss is hard enough to beat all these big guys up hehe especially the fight at the end which does smell of certain JCVD films. Holes are uncovered in the plot which make you question sequences and the ending is abrupt and kinda rushed, its mainly a vehicle for Goss much like 'The Transporter' was a vehicle for Statham but this is abit too late and dated really, still its kinda cool to see a trio of cockneys in the main roles of a US film.
Phil Hubbs
Super Reviewer
Blood Out Quotes
There are no approved quotes yet for this movie.