Blood Rage (Nightmare at Shadow Woods)
(1987)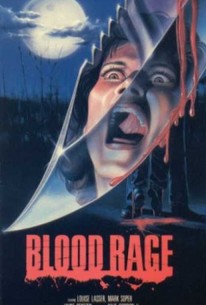 AUDIENCE SCORE
Critic Consensus: No consensus yet.
Movie Info
A boy gets away with murder by blaming his twin brother.
Critic Reviews for Blood Rage (Nightmare at Shadow Woods)
Audience Reviews for Blood Rage (Nightmare at Shadow Woods)
You know you're in for quite the movie when, after having committed a murder, a kid frames his twin brother by smearing blood on his face and having given him the murder weapon. There's nothing wrong with that, so far. The problem comes in the fact that, as the kid is framing his brother, people are actually coming towards them to see what the deal is. So, yes, people see this kid framing his brother and who goes to the mental institution for the crime? Why, of course, the innocent brother. Apparently the witnesses just suffered collective memory loss, because no one even bothered to tell the police what they saw. Naturally speaking Todd, the innocent brother, escapes from the mental institution, this triggers something in Terry, the murderous asshole, which causes him to go on a killing spree. Of course, Todd having escaped leads everyone to believe that Todd is the one responsible for these murders. Simple enough. Honestly speaking, if it wasn't for that bit of stupidity at the beginning of the film, I would have had no problem calling this a fairly solid 80s slasher, which is the film's original title. I really do think that the stupidity of having the kid try to frame his twin brother while people are actually seeing him do it held it back a bit. As far as it's concerned, I found this to be a surprisingly interesting slasher for one reason and one reason only. And that is the relationship between Terry, the bad seed, and his mother. They don't actually have a lot of scenes together, but there's this subtext that they have a, somewhat, incestuous relationship with each other. The film makes this obvious, in how Terry reacts to his mother's engagement. And there's also the scene where the mother, thinking she's talking to Terry, gives Todd a kiss on the lips. It wasn't like a kiss you'd give a boyfriend, of course, but it's just another piece of the puzzle. Like I said, they're not exactly subtle about this, but it's something that, really, I haven't actually seen in any 80s slasher. You could say Jason and his mother in the first Friday The 13th, but that relationship is more Jason's mother dominating him, sort of like Ed Gein's mother. This movie, fairly openly in fact, embraces the incestuous angle and I was legitimately surprised by that. Here I wanted a goofy 80s slasher and I ended up getting a story with incest as its subtext. The acting, particularly for a film of this era, is surprisingly solid all things considered. Mark Soper who, obviously, plays both brothers, does quite a good job. He's an effective psychopath when he plays Terry and he's effective at Todd's timidness. The characters aren't fleshed out any more than that, and did you really expect them to be, but Mark Soper gives a good performance regardless. Louise Lasser is also solid, even if all she does is drink wine and clean around the house. She finally starts to take action near the end of the film, which leads to another piece of the puzzle of the incestuous relationship between Terry and her mother. I'm not gonna spoil it, but it's there. But people that decide to watch this movie don't really care about the story, they care about the blood and gore. And, outside of some silly effects, the blood and gore is really quite strong. As far as an 80s slasher, in an era when Jason and Freddy were at their peak and toned down their violence, this movie stands out because of that. It's not like the violence in this movie is at the level of a Ichi The Killer, as an example, but it's still quite good for the era. I don't know what else to say about this movie, it's far more interesting than it lets on. It's also a very brief movie, so it doesn't overstay its welcome. You know what, I don't give a shit, I'll give this movie 3 stars. It has some goofiness, yes, and I can't deny that, but I still enjoyed this movie. It's got some solid performances, interesting subtext and good enough gore to satisfy horror geeks. So I'd recommend it if you're looking for a quick horror fix.
Jesse Ortega
Super Reviewer
½
Blood Rage is a laughably silly slasher film where the whole premise is void of logic, the acting is horrendous, and the low budget feel poses too many awkward situations. This movie seemed like a small production studio's attempt to capitalize on the Nightmare on Elm Street popularity, but instead of an iconic killer like Freddy Krueger, Blood Rage introduces Todd and his evil twin Terry (both played by Mark Soper). While they were kids, Terry kills someone and blames it on Todd, and everyone without question send Todd to a mental institution because he was too traumatized to tell the truth. One night, ten years later, Todd escapes, which gives Terry the chance to go on a murderous rampage that everyone thinks Todd is the perpetrator. The blood effects are incredibly fake, every actor gives an unintentionally hilarious performance, particularly Louise Lasser who gives one of the most unconvincing breakdowns I've ever seen. All this set to a 80s music score that would be better suited to an action film like The Terminator. Some films can be recommended because they're so bad that they're good. This doesn't quit cross that line. It's just bad.
Edward Boxler
Super Reviewer
It's laughable in parts and pretty gory in others but overall a pretty standard entry during the decline of 80's slashers. Find it in its uncut format otherwise you'll be wasting your time.
A.D. Villarreal
Super Reviewer
Blood Rage (Nightmare at Shadow Woods) Quotes
There are no approved quotes yet for this movie.