Blood Simple
(1984)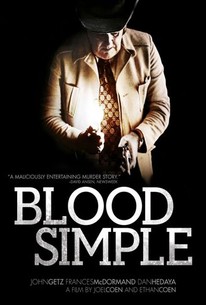 TOMATOMETER
AUDIENCE SCORE
Critic Consensus: Brutally violent and shockingly funny in equal measure, Blood Simple offers early evidence of the Coen Brothers' twisted sensibilities and filmmaking ingenuity.
Movie Info
In the first film of brothers Joel Coen and Ethan Coen, M. Emmett Walsh plays Visser, an unscrupulous private eye hired by Texas bar owner Marty (Dan Hedaya) to murder Marty's faithless wife Abby (Frances McDormand) and her paramour, Ray (John Getz), one of Marty's employees. But Visser is no more up-front with Marty than with anyone else; he makes some slight modifications of the original plan so that it better serves his own best interests. After a surprise double-cross and the murder of one of the important players, matters spiral out of control, and the plot gyrates through a complicated string of darkly humorous events. False assumptions, guilt, and fear all lead to a frantic attempt to conceal evidence and the heart-pounding, irony-filled denouement. Blood Simple was re-released in the summer of 2000 with a digitally-remastered soundtrack and -- at the Coens' behest -- a few minutes of dialogue trimmed. ~ Hal Erickson, Rovi
News & Interviews for Blood Simple
Critic Reviews for Blood Simple
Audience Reviews for Blood Simple
The Coens' first film was this extremely well-written and well-directed neo-noir that blends violence and humor and relies on an insane amount of misunderstandings and absurdities involving its characters - something that would become their trademark narrative style.
Carlos Magalhães
Super Reviewer
Watching a directorial debut is a fascinating practice, partially because you can see a filmmaker's trademarks already fully formed. With that in mind, Blood Simple is most definitely a Coen Brothers film, parts dark and deliriously funny. The Coen Brothers have proven themselves to be the best directors out there when it comes to "crime gone wrong" films, but it still manages to be shocking that they already had it down pat right out of the gate. The less you know about Blood Simple going in, the better. Just know that it's stylish, funny, and written with an efficiency that most screenplays lack. Pile on some great performances on top of that and you have a debut film on the level of Reservoir Dogs.
Jacob Ethington
Super Reviewer
Blood Simple is the Coen Brothers big debut, and it gives us a glimpse of what the two directors would come to create later on in their career. With a tightly written script, and a stunning cast of varied talent, the Coen Brothers crafts a stunning picture that delivers a powerful story that is engaging from start to finish. I thoroughly loved this film, and Blood Simple boasts the quality craftsmanship that would make each Coen Brothers film so unique in the cinematic medium. The direction is immaculate and it has a nice pacing that keeps you involved from the first frame onwards. The Coen Brothers make excellent films, and for this debut, they set the standards high, and have made one of the best crime films that I have seen. Fans of their films should definitely check this one out as it is quite thrilling, well acted and has a truly wonderful story that only the Coens could have brought to the screen. Film fans will definitely want to see this one, as it is truly an exciting, well layered and suspenseful film that will keep you interested from start to finish. This is among the finest debuts from any director and I personally it was only rivalled by Quentin Tarantino's Reservoir Dogs. This is a film that relies on a well structured story and a great cast to entertain the viewer, and it is a fairly basic principle that pays off very well. Blood Simple is a flawless picture that launched the careers of the Coen Brothers, and it's clear with what you see on camera, that these directors would go on to become very successful and hone their craft even further. Blood Simple is a brilliant piece of work from two incredible filmmakers.
Blood Simple Quotes
| | |
| --- | --- |
| Marty: | If I need you again, I know which rock to turn over. |
| | |
| --- | --- |
| Visser: | What I know about is Texas, and down here, you're on your own. |
| | |
| --- | --- |
| Visser: | Well, ma'am, if I see him, I'll sure give him the message. |
| Visser: | [laughing hysterically] Well, ma'am, if I see him, I' ll sure give him the message. |
| | |
| --- | --- |
| Ray: | If you point a gun at someone, you'd better make sure you shoot him, and if you shoot him you'd better make sure he's dead, because if he isn't then he's gonna get up and try to kill you. |