Blood Tide (Demon Island) (The Red Tide) (Bloodtide)
(1982)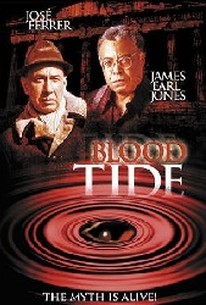 AUDIENCE SCORE
Critic Consensus: No consensus yet.
Movie Info
It will come as quite a shock to discover the venerable James Earl Jones and José Ferrer slumming in this Greek-lensed ultra-cheapie about a legendary sea creature aroused from centuries of sleep off the shores of a Greek island by an opportunistic American archaeologist (Jones). It seems the beastie's legacy is well known by some of the island's old-timers (namely Ferrer), including the part about appeasing the monster with a virgin sacrifice -- namely the alluring Deborah Shelton. The exotic locations and the presence of the gruff Jones (who apparently saw this as a paid vacation) lend a great deal of production value, but apparently Jones' salary came out of the filmmakers' special-effects budget -- because the feared creature of ancient legend looks like a sock puppet! This film is also known as Red Tide and Demon Lake.
Critic Reviews for Blood Tide (Demon Island) (The Red Tide) (Bloodtide)
Audience Reviews for Blood Tide (Demon Island) (The Red Tide) (Bloodtide)
A honeymooner tracks his missing sister to a remote Greek island where the weirdo locals and expats are hunting for treasure and dealing with a sea monster. James Earl Jones' performance as a drunken, "Othello"-quoting archeologist is the only point of interest in this cheap and poorly designed creature feature that blatantly rips off better movies (e.g. JAWS).
From Brentwood Home Video 4 Movie Collecyion Of Tales From The Bone Yard. A legendary sea monster is awakened from centuries of sleep on a Greek island by an American archaeologist (James Earl Jones). An island elder (Jose Ferrer) is aware of the legend of the beast, including its appetite for virgin sacrifices," according to the DVD sleeve's synopsis. Elderly Lila Kedrova (as Anna), a knowing nun, is also aware of the monstrous danger. Hopefully, the monster isn't averse to snacking on a few tasty non-virgin women as well, because there are a few to wet one's appetite. In fact, the main "Blood Tide" attraction is watching three very arousing thirty-something women. First, rise to attention for beautiful blonde model Mary-Louise Weller (as Sherry Grice), newlywed wife to handsome shirtless hero Martin Kove (as Neil Grice). Next, salute bouncy brunette Deborah Shelton (as Madeline), who looks swell in either wet clothes or the wind. Then, make it a third thumb up for busty blonde Lydia Cornell (as Barbara). Nobody shows too much skin, but everyone looks good. 2 Stars 8-9-13
Bruce Bruce
Super Reviewer
This has a great cast and some interesting things going on in it, but it's far too muddy. I'm still scratching my head at the incestuous moment toward the end.
Tim Salmons
Super Reviewer
Blood Tide (Demon Island) (The Red Tide) (Bloodtide) Quotes
There are no approved quotes yet for this movie.