Blood Work
(2002)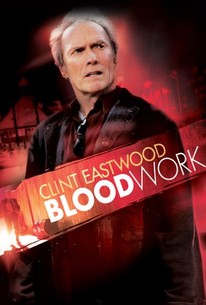 Movie Info
A retired detective must battle former colleagues and his own failing health in order to bring a murderer to justice in this action drama produced and directed by its star, Clint Eastwood. Terry McCaleb (Eastwood) was one of the best and most thorough detectives at the FBI's Southern California office, until a massive heart attack sidelined him from police work for good. Following a heart transplant which saved his life, McCaleb has resigned himself to living quietly on a houseboat for the rest of his days, observing a strict health regimen prescribed by his cardiologist, Dr. Bonnie Fox (Anjelica Huston). However, McCaleb is persuaded to take on one last case through the insistence of a woman named Graciela Rivers (Wanda De Jesus). Rivers's sister was murdered in cold blood by a mugger, and her heart was used for McCaleb's transplant; now, Rivers wants McCaleb to find her sister's killer. McCaleb agrees to take on the case, but he quickly discovers his weakened physical condition makes the rigors of handling an investigation far harder and more difficult than its ever been before; he also can no longer drive a car, and must persuade his oddball friend from the marina,Buddy Noone (Jeff Daniels), to ferry him around town. Before long, despite these drawbacks, McCaleb discovers evidence which suggests the murderer may be a serial who uses random street robberies as a cover, but he finds that Ronaldo Arrango (Paul Rodriguez) and John Waller (Dylan Walsh), the police detectives assigned to the case, are not especially interested in sharing the glory (or their legwork) with the former FBI point man. Blood Work was adapted from the novel by Michael Connelly; Brian Helgeland wrote the screenplay. ~ Mark Deming, Rovi
News & Interviews for Blood Work
Critic Reviews for Blood Work
Audience Reviews for Blood Work
A crafty, old school and first-class edge of your seat suspense thriller. Clint Eastwood is magnificent, he still has all the right moves as a director and performer. One of the best performances of his career. A well made mystery of the best standards. A gritty, sharp, edgy, sophisticated and riveting thriller. It hits all the right notes and manages to be stable and engrossing entertainment.
½
Terry McCaleb: Remember how you said I was your friend, and I could tell you the truth? Well I don't need you at all.  "He's a heartbeat away from catching the killer" Blood Work gets a lot of shit and it is easy to see why. This is a predictable and lazy thriller from Eastwood. The plot is interesting enough to make it passable, but when you think Eastwood, you think of high quality films; not this. The supporting cast is extremely bad. Eastwood even seems to be sleepwalking through his role, a role which he has played a hundred times. He plays his standard old detective, who is done with his career, but wants to solve one last case.  A woman comes to McCaleb, a retired FBI man who has just gotten a heart transplant. The woman who comes to him, had a sister killed and that sisters heart went to McCaleb. So he feels that he must help her out, despite objections from his doctor and the authorities. He starts to piece things together, such as linked murders. The killer is also leaving messages, he says at all of his killings, "Happy Valentine's Day." This is a very average and pretty dull film from Eastwood. It isn't up to par with the majority of his work, but it also isn't his worst. If you're a big fan of Eastwood, it is still worth a look. Bad Eastwood is still decent when you look at what other directors throw out there.
Melvin White
Super Reviewer
½
A run of the mill procedural cop/serial killer movie. The low rating is because of how low on surprises this was. Honestly, it was ridiculously easy to solve. If I'm watching a film about an FBI profiler I shouldn't be 1 hour ahead of him. I worked out the plan, the motive, and the killer within the first 45 minutes. It was annoying watching Clint being so dim and behind the times. It wasn't even represented as him being too old anymore, he was supposed to be one of the best. I guess profiling has come along way in 9 years, or maybe I've just seen too many episodes of Criminal Minds. The lines are cheesy, with Paul Rodriguez giving an awful performance of your run of the mill antagonist cop. Wanda De Jesus was simply selfish in asking for Eastwood's help, and there's even a scene where a child is ahead of Eastwood in the investigation. I'm very surprised that Eastwood directed this, as it was so plain. I hear they changed details from the books, which is no big deal, but they even changed the identity of the killer. Probably why it was so obvious, as no thought had been put into the reveal.
Luke Baldock
Super Reviewer
Blood Work Quotes
There are no approved quotes yet for this movie.