BloodRayne 2: Deliverance
(2007)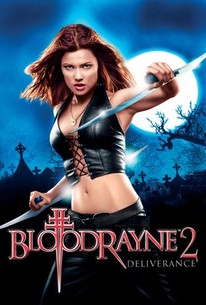 AUDIENCE SCORE
Critic Consensus: No consensus yet.
BloodRayne 2: Deliverance Photos
Movie Info
The Old West is changed forever when sexy half-human/half-vampire BloodRayne rides into Deliverance for a showdown against Billy the Kid and his army of vampire cowboys. Natassia Malthe stars in this wild chiller. Zack Ward, Brendan Fletcher, Michael Paré, Chris Coppola. Directed by Uwe Boll.
News & Interviews for BloodRayne 2: Deliverance
Critic Reviews for BloodRayne 2: Deliverance
Audience Reviews for BloodRayne 2: Deliverance
To only reason to make a sequel to a bad film is to make money. The filmmakers clearly don't care about the quality of the film, thus this is a film that looks cheap with a bad cast, poor script and poor effects. Not to mention that Uwe Boll is in the directors' chair once more to direct this sequel to his 2006 film Bloodrayne. The result is a film that is far worse than the first, and you wonder how this crap could have been made. I mean really, who would give a budget to this train wreck of a film. Boll has made a few decent films, but the bulk of his work is awful. This is a poorly made film, and it's just not interesting without anything good or really interesting to stand out and grab your attention. This where Uwe Boll fails, developing an effective story and create awesome action and thrills to satisfy an audience. Unfortunately, this is a poorly made film, one that has a very cheap feel to it. This is filmmaking at its worst, and it shouldn't be a surprise due to the fact that it's an Uwe Boll film. If you love action packed horror films, there are far better films out there. Bloodrayne: Deliverance simply just looks too poorly made to be an effective viewing experience. Don't expect anything with film as it is a truly awful film not worth sitting through. Uwe Boll can't clearly adapt a video game to the screen, and this is the proof.
½
Another film based on the video game character Bloodrayne. This has nothing to do with the Bloodrayne 2 game what so ever. This time it's set in the old wild west, not that wild though as there isn't a lot of action. Billy the Kid just happens to be a vampire in a small town so Bloodrayne has to come to the rescue. It's not as bad as I feared for an even lower budget sequel to the first, at least that had actors you have heard of in it. Just has that cheap TV film feel to it, but it could have been worse I guess.
Natassia Malthe looks so sexy as the title role in this movie like Kristanna Loken from the original. This action/western/horror film seems average as well as I can see lots of mistake in the scenes what worst Germany director Uwe Boll made.
Dean McKenna
Super Reviewer
BloodRayne 2: Deliverance Quotes
There are no approved quotes yet for this movie.