Bloodsport
(1988)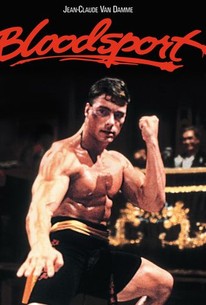 Movie Info
U.S. soldier Frank Dux (Jean-Claude Van Damme) has come to Hong Kong to be accepted into the Kumite, a highly secret and extremely violent martial-arts competition. While trying to gain access into the underground world of clandestine fighters, he also has to avoid military officers who consider him to be AWOL. After enduring a difficult training and beginning a romance with journalist Janice Kent (Leah Ayres), Frank is given the opportunity to fight. But can he survive?
News & Interviews for Bloodsport
Critic Reviews for Bloodsport
Audience Reviews for Bloodsport
Fun and entertaining martial arts film, Bloodsport is not a perfect film, but is definitely an entertaining ride if you can get past the tongue in cheek moments and so-so acting. The reason that the film works so well is becauset of the great fight scenes that make up the film. Although the film relies on a decent script, the fights are great, and fun to watch, and make the film much better. The direction is effective enough to generate a film that is thrilling and exciting, and if you can forget that it's a corny action film with laughable dialogue, you'll most likely enjoy it. I didn't that this was a great film, and I felt it could have been much better, but it was entertaining. This is the first Jean-Claude Van Damme film that I've seen, and he is very good in his role despite the silliness of it all. If you enjoy martial arts films, pick this one up. The film's strength lies in the fight scenes and not the acting or plot. Expect an entertaining flick that is quite mindless and fun, but don't expect something great either. Bloodsport has plenty of flaws, which I already pointed out. Expect Van Damme doing lots of splits, which is awesome and pretty painful to say the least. The fights are wicked and that's all this film is, fights, fights more fights and even more fights. Bloodsport doesn't try to be great and memorable martial arts flick like Bruce Lee's short, but legendary filmography, but it has spirit and delivers awesome action despite its imperfections and lack of great story.
"Bloodsport," even though it is based upon a real martial arts fighter, feels extremely corny and sloppily put together. The dialogue feels like it was written and directed by a young teenager who was given a professional camera, along with some big name hollywood actors who really do not seem interested in their own characters. Usually the action in a film like this would be the deciding factor between enjoyment or utter awfulness, and honestly, this film fails at that as well. The action is very poorly edited and there is practically no signs of practised choreography here. I could not keep myself from laughing during this entire film, not because of intended comedy, but because the characters were very unintertesting, the story is extremely generic, the cinematography captures the worst angles during the fight sequences, and the overall film suffers. Seeing as it is based on an actual person, you would think that the filmmakers would have put a but more devotion into the film and hired a better actor than Van Damme, but what can you do. The film was made, and it really sucks. Still, throughout the film you can find some enjoyment during the fight and chase sequences.
I, like most film fans, can appreciate the films of Kubrick, Goddard, Pabst, Bergman, and other auteurs. With patience, time, and access to a well-vetted Wikipedia page, one can slowly begin to peel back layer by layer the many different meanings encompassed in the very best of cinema. However, it takes a certain kind of man to truly take on headfirst a film as profound, devastatingly honest, and important as Newt Arnold's Bloodsport. Arnold not only understands the human condition better than any filmmaker I have ever seen, but he also knows how to trim the fat and get to the very heart of what keeps people coming back to the movies over and over again. All of this, and much much more, is on display here in Bloodsport. Arnold utilizes slow motion to great effect here as he knows that watching a fibula break just isn't the same when witnessed in real time. Also, the raw energy of the immensely talented cast only adds greater depth to the already riveting story that touches on, but is not limited to: alienation, addiction, love, and above all, pain. While I am sure there are countless metaphors buried beneath all of the abdominal blows and roundhouse kicks, I couldn't even begin to touch on them here. Hell, I don't even know if a doctoral dissertation could begin to unpack all of the symbolism Arnold gives us in a single frame. It's best to leave that to the experts, should there ever exist someone willing to take on such heady subject matter. Hitchcock once said "For me, cinema is not a slice of life, but a piece of cake." I can only assume that Hitch got his hands on an early print of Bloodsport when he said this as I can not imagine any other film being more deserving of your time than this blood-soaked masterpiece.
Bloodsport Quotes
| | |
| --- | --- |
| Victor: | What's the difference if Bruce Springsteen is his shidoshi? |
| | |
| --- | --- |
| Frank Dux: | NOOOOOOOOO!!!! |
| Frank Dux: | NOOOOOOOOO! |
| | |
| --- | --- |
| Ray Jackson: | [Frank is doing splits between two chairs] That hurts me just lookin' at it. |