Bloody Mama
(1970)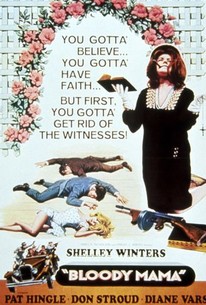 Movie Info
Shelley Winters, who once played the spoofish "Ma Parker" on Batman, brings the same larger-than-life approach to her portrayal of real-life Ma Barker in Bloody Mama. Presiding over her outlaw gang, consisting mainly of her goonish sons, Ma goes on a Depression-era rampage of bank robbery, murder and kidnapping. Obviously filmed in a hurry-watch as the Barker mob drives past modern shopping centers-- Bloody Mama strives for an entertaingly sleazy aura, especially when dealing with the incestuous subtext of Ma's relationship with her boys. And look who plays the Barker brood: Clint Kimbrough, Robert Walden and Robert De Niro! Bloody Mama was scripted by Robert Thom, whose previous collaboration with producer Roger Corman was the cult classic Wild in the Streets (former 1950s ingenue Diane Varsi appears in both films). ~ Hal Erickson, Rovi
News & Interviews for Bloody Mama
Critic Reviews for Bloody Mama
All Critics (7) | Fresh (1) | Rotten (6) | DVD (1)
Submits itself as "fun," only to detail horrific, lurid acts of dehumanization, sold with customary Corman frugality.
Schlocky AIP venture, with Winters hamming it up.
August 30, 2002 | Rating: 2/5
One of Corman's campiest. Winters is in rare form -- and that's saying something.
July 25, 2002 | Rating: 2.5/5
Audience Reviews for Bloody Mama
Bloody Mama is an average low budget gangster film that is quite entertaining, but also has plenty of wasted potential in being a great picture. The cast are good here, but I felt that the story lacked a bit in comparison to other genre pictures. Roger Corman does assemble a great cast here, but his script does lack a bit and it is an average gangster film. Despite this, Bloody Mama is still an entertaining film, and a must see for gangster film fans; however it could have been much better as well. In terms of a low budget cult film, Bloody Mama is quite good, but like I said, considering its subject should have been a standout feature. The feel of the film feels slightly rushed, which is a great shame because the film has all the necessities to really make this a standout gangster feature. Other films of the era that deal with outlaws are better such as Bonnie & Clyde. Bloody Mama is a good film, but it's one of those movies that never realizes its potential due to an underdeveloped script. Still for what we get here, this is an entertaining ride, but considering other crime films, I expected a bit more out of this one. Bloody Mama has its flaws, but it's not a bad movie by any means, it's one that had the misfortune of having a rushed script. Luckily the cast keep it together, and Roger Corman's direction is effective to make this one soar above its limitations. For cult film fans, Bloody Mama is entertaining viewing, but like I stated, it should have been better, however it's a well crafted film nonetheless.
½
Lurid B level junk but not like anything you're likely to run across anywhere else. Shelley consumes the scenery as Ma Barker and her crazy brood includes a young DeNiro. Something to watch at least once for the curiosity factor.
Had this pre-dated Bonnie and Clyde, it would be hailed as a classic and taught in film schools everywhere. As it is, it is a very entertaining exploitation flick from Roger Corman, featuring Shelley Winters in the lead role. I personally prefer it to Bonnie and Clyde, as this odd family is far more complicated and just as socially radical. The dialogue feels very authentic, and the characters suffer just the right amount of sexual and developmental confusion to make them empathetic if perturbed killers. The Herman character is perhaps the most compelling and developed of the sons. The ending is directly alluded to in the beginning of Rob Zombie's "The Devil's Rejects". Don't skip this if you want to see Depression era criminals, Corman exploitation, or Winters playing psychologically deranged. "So Fucked Up" highlight: Mama keeps a boy in her bed every night
_kelly .King
Super Reviewer
Bloody Mama Quotes
There are no approved quotes yet for this movie.