Bloody Pom Poms (Cheerleader Camp)
(1988)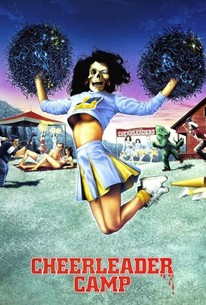 AUDIENCE SCORE
Critic Consensus: No consensus yet.
Bloody Pom Poms (Cheerleader Camp) Photos
Movie Info
Also known as Bloody Pom Poms, the film concerns a cheerleading camp where one member is suspected of murder after several of her fellow pom-pom girls are killed.
Critic Reviews for Bloody Pom Poms (Cheerleader Camp)
All Critics (2) | Fresh (0) | Rotten (2) | DVD (2)
This movie in particular becomes an excruciating exercise in waiting for the next death or shot of gratuitous nudity, neither of which are ever really satisfying.
Audience Reviews for Bloody Pom Poms (Cheerleader Camp)
½
Give me an B! Give me an A! Give me an D! What does that spell? BAD. Yes, pretty bad, cheesy and stupid slasher with a couple of funny moments, some gore and nudity. If you're a fan of the slasher genre, it's worth a look. It's certainly not the worst I've ever seen. Otherwise...Skip it!
Cheerleader Camp is really a guilty pleasure. The film is on par with Sleepaway Camp as being cleverly silly, yet somewhat scary at times. Cheerleader Camp is simply put, a fun little Horror film to watch. The film is not to be taken so seriously, and in the end, if you don't take it seriously, you'll discover that a fine film lies beneath its veneer of B grade fair. The cast is comprised of Betsy Russell, who would later be famous for playing the wife of homicidal madman, Jigsaw in the Saw series also in this film is teenaged heartthrob Leif Garrett and Playboy centerfold, Pamela Ferrati. The cast seem like they're having fun with this film and it shows on screen. Cheerleader Camp is not for everyone, but if you like silly B grade slasher flicks, give this one a shot. It's a better film than everyone suggests it to be.
This movie is in the same vein as all the other kinda girls being stalked by a killer movies except for the fact that this one isnt as good as the rest like slumber party masscare, sleepaway camp etc. Girls at a cheerleading camp are being killed off one by one some twists and turns but the payoff at the end is small at best worth a watch to your its so bad it might be good section of 80's horror
Bloody Pom Poms (Cheerleader Camp) Quotes
There are no approved quotes yet for this movie.