Bloody Sunday
(2002)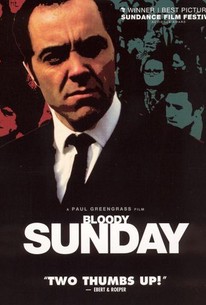 Movie Info
A depiction of the events of the infamous bloody massacre which took place Sunday on January 30, 1972 when 27 civilians were gunned down by the British Army in the streets of Northern Ireland. The story revolves around two young men who are caught up in the crossfire. One is an idealistic civil rights leader, and the other a teenage Catholic boy. Witness testimony contradicts the official findings of the government-sponsored investigation committee, which, in the first few months following the tragedy, cleared the British Army of any wrongdoing. The events fueled a 25-year cycle of violence between Britain and elements of Ireland, North and South.
News & Interviews for Bloody Sunday
Critic Reviews for Bloody Sunday
Audience Reviews for Bloody Sunday
½
Interesting account of what happened on this tragic day. Not sure which side is telling the truth, but it is quite clear that things got way out of control. This movie was filmed in reality, shaky camera style...not my favorite. However, it was a decent attempt at telling this unfortunate event in history.
Cynthia S.
Super Reviewer
½
Felt it a bit lengthy, but otherwise incredible. Of course I was never aware of such historical incident. But that's no news, is it? However, I found it a bit exaggerated when Ivan compares the incident to the Amritsar Massacre (aka Jallianwala Bagh Massacre, which also happened to be a Sunday). Worth a watch, but could have been edited better.
familiar stranger
Super Reviewer
Greengrass is just plain and simply, the man. He has the Midas touch in which everything he touches, turns to gold. In this gripping retelling of the events in 1972, Greengrass takes memories so wrought with emotion, and presents them in a way that seems not only fresh, but also fair. While he could have easily made a film vilifying the British for their actions, he takes time to give them reason, and shows the rage that was boiling up on both sides. As soon as you spend too much time with one side, the picture fades to black and we are taken back to the other side of the battle. On top of being a stylistic choice, it also helps keep the audience objective. He by no means defends the British, but he does the best he can to make the audience understand the calamity. As for the calamity itself, it is incredibly well done and unbelievably intense. I have never felt like I was in the middle of such a violent conflict before and this film just made me plunge right in the eye of the storm. The acting here is top notch and there are some pretty stunning long takes that help to really put you right in the heart of the chaos. All in all a very fine film. A gripping and very fine film indeed.
Bloody Sunday Quotes
| | |
| --- | --- |
| Chief Supt. Lagan: | You call that minimum force? |
| | |
| --- | --- |
| Ivan Cooper: | You have destroyed the civil rights movement, and you've given the IRA the biggest victory it will ever have. All over this city tonight, young men... boys will be joining the IRA, and you will reap a whirlwind. |
| | |
| --- | --- |
| Ivan Cooper: | You have destroyed the civil rights group. |