Blow
(2001)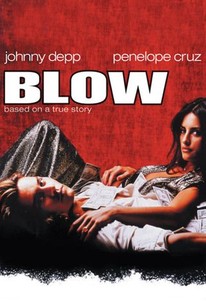 TOMATOMETER
AUDIENCE SCORE
Critic Consensus: With elements that seem borrowed from movies like Goodfellas and Boogie Nights, Blow is pretty much been-there-done-that despite another excellent performance from Johnny Depp. It, also, becomes too sentimental at the end.
Movie Info
Following the life of cocaine-trafficking pioneer George Jung in a way that recalls Martin Scorsese's Casino, Blow recounts the man's days from his 1950s childhood in Boston to his downfall in the 1980s. George (played by Johnny Depp) begins his life as the son of Fred (Ray Liotta), an earnest breadwinner, and Ermine (Rachel Griffiths), who frequently walks out on them in pursuit of a more fulfilling life. When George moves west to California in the late '60s, accompanied by best pal Tuna (Ethan Suplee), he becomes an entrepreneur in the marijuana business, which soon spreads to the East Coast as well, with girlfriend Barbara (Franka Potente) smuggling the product during her stewardess shifts. George is arrested in 1972 -- at which time Barbara dies of cancer -- but George finds a new ally in Diego (Jordi Molla), who proposes the idea that he become the American conduit for Colombian kingpin Pablo Escobar (Cliff Curtis). George flourishes in the heyday of the disco era, and falls for Mirtha (Penelope Cruz), a self-serving bombshell who eventually has a daughter with him. Trouble escalates as the FBI threatens to bring George and his crew down, while he desperately tries to be a stable parent to his young offspring. Blow also features Paul Reubens and Max Perlich in featured roles. ~ Jason Clark, Rovi
News & Interviews for Blow
Audience Reviews for Blow
½
This is the semi-biographical tale of drug dealer George Jung (Depp), who grew to be the largest distributor in the United States during the seventies and eighties. The film begins with George living the American Dream amidst parents who find potential in excess, and he goes on to make a name for himself on a huge scale to appease them. The entire film feels like a PSA against drug addiction and crime, easily digestible for any adverse youths who might stumble upon this while scrolling through Cinemax. The ending especially, with its sad sack holier than thou approach, smelled rank of propaganda. Depp gives a flat, meandering performance as Jung, which only reaches its emotional plateau when his daughter is featured (Roberts). The film may be engaging, in the same was as "Scarface" but there's none of the punch, or unapologetic violence. Morality tales often aren't thrill rides, and in this case this one is down for maintenance.
Spencer S.
Super Reviewer
½
The life of drug dealer George Jung is the subject of another engaging performance by Johnny Depp. The film has a lot of things in common with Goodfellas; the true life story of a man's life of crime, the voice-over, the way the story darkens once cocaine appears on the scene. It even cheekily casts Ray Liotta and a Lorraine Bracco look-alike as George's parents. The main difference is in the tone; it has a gloss that skims over the moral implications of Jung's actions, portraying him as a charming and likeable entrepreneur and never showing the results of his criminal activity. As such it lacks the power and grittiness of both Scorsese's masterpiece and Traffic. Moral implications aside though, it's a well written, well acted and enjoyable tale with a nicely poignant ending.
½
'Blow' is a horribly dull rehashing of classics such as 'Scarface', 'Goodfellas' and 'Boogie Nights'. The problems are abundant. Its plot is rambling, bloated and tediously predictable; so many plot points are crammed into it. This poorly constructed narrative results with sorely limited characterisation; some seemingly important characters coming and going within ten minutes, it's a total mess. Much of the film is one long dreary drug deal, only the most immature viewer would be engaged or, even worse, allured by it. Most people will watch it thinking about how it lacks the energy, sophistication and talent of all the fantastic crime films it so crudely rips off. Few films are as annoyingly kitsch as this. Johnny Depp again proves his lack of credibility in the crime genre, his first attempt being in the similarly dull 'Donnie Brasco'. I'm not sure why RT deems his performance 'excellent', his feminine features just don't work in the genre. Ray Liotta plays Depp's father, the noble working class stock character that forms the film's rather flimsy anti-drug message. This fails because of the aforementioned narrative issues, the film is utterly devoid of any message that resonates with the viewer. Most people who like this film appear to foolishly do so because they find it 'cool'; much like the bonehead rappers who idolise Tony Montana in 'Scarface'. To make matters worse, the film also has mawkish lashings of sentimentalism towards the end. The crew had to have known how inferior this film was during production, I can imagine it was exhausting for them to complete the project with any conviction.
Jack Hawkins
Super Reviewer
Blow Quotes
| | |
| --- | --- |
| George Jung: | We had the world by the short and curly's. We were young, rich, and in love. Nothing could stop us. It was perfect. |
| | |
| --- | --- |
| Tuna: | I'm a walking heart attack. |
| | |
| --- | --- |
| George Jung: | im really good at what i do dad |
| George Jung: | I'm really great at what I do, Dad. |
| | |
| --- | --- |
| George Jung: | This is Grade A 100% pure Colombian cocaine, ladies and gentlemen... Disco shit... Pure as the driven snow |
| George Jung: | This is Grade A 100% pure Colombian cocaine, ladies and gentlemen... Disco shit... Pure as the driven snow. |