Blue
(1993)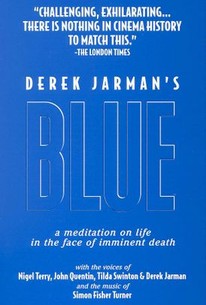 Movie Info
In this film, the color blue is all there is to see as director Derek Jarman tries to bring the audience into his vision-impaired world. Jarman offers his insights on life, love, disease, the meaning of art, and the symbology of the color blue over a blue screen.
Critic Reviews for Blue
All Critics (6) | Top Critics (1) | Fresh (6) | Rotten (0) | DVD (1)
Blue remains an intense and moving tribute to the woman at its centre who, in coming back from tragedy, almost refuses, but ultimately accepts the only real love that's on offer.
In spite of all he's losing - his sight, his ability to make visual films, his future, Jarman still remains hopeful, resilient, and committed to his vision.
Derek Jarman's filmic essay on his own blindness and impending death is a monochromatic elegy to a director's loss of vision.
Audience Reviews for Blue
½
Jarman's masterpiece was always going to attract a lazy criticism from the mainstream mindset: pretentious, trendy, self-indulgent etc. But to dismiss it out of hand as no better than a first year art student's project is to fail to appreciate the rich narrative. The coldness of the blue focusses the mind on what Jarman has to tell us, perhaps far better than any other colour would've done. We cannot help but listen, and take in one very gifted man's grim yet positive perspective on gay life, and a slow death through AIDS. Brian Eno's musical score is stark and haunting, with passages of female vocal harmony that are strongly influenced by contempory sacred music from Eastern Europe. Watch this film with an open mind: Force yourself to keep staring into the blue yonder, and it will empower you with a new level of vision and perspective.
Cassandra Maples
Super Reviewer
½
With his final movie "Blue", Derek Jarman again takes an intriguing angle, again proving how visual the medium of film is, by using an empty blue screen for its entire running time to emulate his blindness caused by AIDS which would claim his life in 1994. As the Washington Post pointed out at the time, he had lost his sight, but not his vision with his personal testament to the world around him that is alternately sad, sardonic and angry, mourning his friends who had already died, much too numerous. And it is sad how in Derek Jarman, we lost a talented iconoclastic filmmaker long before his time. One of the particular details Jarman focuses on is the color blue and all of its shades which normally we would never think about. And then you have the blues, the saddest of music. In the present day, the Blue Lanterns of DC Comics encompass hope.
Blue Quotes
There are no approved quotes yet for this movie.