Blue Caprice
(2013)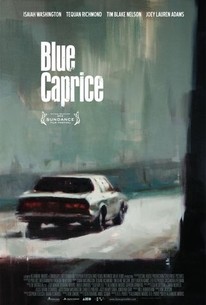 TOMATOMETER
AUDIENCE SCORE
Critic Consensus: Smart, sobering, and quietly chilling, Blue Caprice uses its horrible true-life story -- and some solid performances -- to underscore the dreadful banality of evil.
Movie Info
The striking feature film debut of writer-director Alexandre Moors, BLUE CAPRICE is a harrowing yet restrained psychological thriller about an abandoned boy lured to America into the shadows of a dangerous father figure. Inspired by true events, BLUE CAPRICE investigates the notorious and horrific Beltway sniper attacks from the point of view of the two killers, whose distorted father-son relationship facilitated their long and bloody journey across America. Marked by captivating performances by Isaiah Washington and Tequan Richmond, lyrical camerawork, and a unique and bold structure, BLUE CAPRICE documents the mechanisms that lead its subjects to embrace physical violence. BLUE CAPRICE paints a riveting portrait of 21st-century America and a haunting depiction of two cold-blooded killers that will endure long after the lights come up. (c) Official Site
News & Interviews for Blue Caprice
Critic Reviews for Blue Caprice
Audience Reviews for Blue Caprice
½
An impressive debut feature from Alexandre Moors concerning the relationship of the 2002 D.C. Beltway shooters, and how a young, confused boy (Tequan Richmond) is brainwashed by a charismatic, self-righteous father figure (Isaiah Washington), who slowly but surely turns him into the monster he wants him to be. An atmospheric drama that is paced very slowly, but the amount of dread in the air is very present throughout the entire viewing. Washington is fantastically creepy, while Richmond absolutely nails his performance as well. Imagine a Terrance Malick film from hell, stripped completely of positivity. This is an eerie little movie that serves as a realistic portrayal of evil and how the slow burn that takes place eventually warps ones mindset and perspective on the world.
Dan Schultz
Super Reviewer
The DC Sniper case was one of the shocking crimes in first half of the 21 Century. A sniper in the DC region, started targeting random people, and had police baffled. The massacre continued for twenty-two days. Blue Caprice is a well crafted character study into the mind of two killers that terrorized a region of the States that is normally a safe place. With this film, we get a flair of sheer madness, but it's told in a subtle way, and the tone of the film is slow paced, but as it unravels we see how two killers terrorize a city. Brilliantly acted and directed, what I loved about the film is that it wasn't graphic or tried to exploit the tragedy in any way. Blue Caprice is an effective drama that boasts a very good cast of actors. Isaiah Washington delivers a blistering, intense performance as John Allen Mohammed, one of the perpetrators of the rampage. Blue Caprice is haunting in its images, performances, and it's quite a feat of storytelling. The subject that the film deals with is not for everyone, but to those who are interested, it's worth seeing. The film really surprised me, and lead actor Washington delivered the finest performance of his career, and I think he matured as an actor with this movie. Though not for everyone, Blue Caprice is a well executed drama based on a horrible massacre. Instead of focusing on the massacre, the filmmakers decided to focus on the events leading up to it, while not showing too much of the rampage, instead suggesting what is about to happen; that way it makes for a much more gripping and disturbing picture, one that will stay with you for a while.
"I've created a monster," John says to Lee,with a satisfied smile. John is proud of his protege,and proud of himself for being such an effective mentor. He is also speaking the literal truth. He and his young friend,the main characters in Alexandre Moors's psychological thriller "Blue Caprice" which is based on John A. Muhammad and Lee Boyd Malvo,who in 2002 terrorized the greater Washington and surrounding Maryland and Virginia areas with a series of murderous sniper attacks where innocent lives were brutally murdered. Under John's guidance,Lee,a lost and lonely teenager,has been transformed from an-All American kid to a steady-deadeye cold blooded killer. "Blue Caprice" sets the story at the year after September 11,at a time of raw nerves and war fever,the Beltway sniper shootings were front page news across the country and at a time when people in the D.C. and surroundings areas were living in constant fear of who was going to be next in a city on the brink of terror. This Alexandre Moors' feature film debut who was known for his music videos in a film that would have been better if it were directed by big name Hollywood talent....Jonathan Demme who directed the Oscar winning "Silence of the Lambs" was set to take over this project,but instead the producers wanted a fresh talent for this. But most of "Blue Caprice" takes place before the shootings in Washington State,and its emphasis is the bond that formed between the killers. There are two ways to tell a story like this,but in aspects this is an exercise in psychological explaination(in the manner of numerous serial killer movies and TV shows)or as a study of the limits of interpretation. The story sets off as a bonding between Lee(Tequan Richmond),and John(Isaiah Washington)where it starts from their first meeting with John's three younger kids on the Caribbean island of Antigua to the suburbs of Tacoma,Washington where Lee follows John there where they end up at the home of an Army buddy(Tim Blake Nelson),whose wife (Joey Lauren Adams) has mixed feelings about the houseguests. John refers to Lee as his son teaches him to drive and to shoot,and demands proofs of filial love in the form of acts of violence. His kindness is punctuated by strange and cruel disciplinary actions,as when he leaves Lee tied to a tree on a rainy night,trusting that the boy will escape and come home for breakfast. On the trip to the supermarket,John lays out a vision that will mutate into a plan. A series of random,bizarre murders,he says,will ultimately bring down the shadowy,oppressive system that he believes is at the roof of all his problems. His worldview is a stew of vague political and racial resentments combined with specific grievances. "They" stole his children,his marriage,and messed up his life,and his adopted son will be the instrument of his revenge. John,unhinged though he maybe,is more readable than Lee,whose brooding,wounded silence is the film's center of gravity. You feel the vulnerability he is unable to express,and Mr. Richmond(who was known for his television work as the oldest son on the television series "Everybody Hates Chris",as well as his movie roles from "Ray" to "You've Got Served")care and restraint make this young man's fate all the more heartbreaking in the outbreak role of his young career with gives a solid performance all around. The same can be said by Isaiah Washington who gives the role of John Allen Muhammad a sinister more evil menace which is shocking in detail. But for the way the story ends,both John Allen Muhammad and Lee Boyd Malvo were captured and were sentenced for their crimes. John Allen Muhammad was executed in 2009 while Lee Boyd Malvo is serving a life sentence without parole. To the relief of the public around the District of Columbia and surrounding areas of Maryland and Virginia,the Beltway sniper case was solved years ago. But Moors' film suggests it is still a mystery to this day.
Mister Caple
Super Reviewer
Blue Caprice Quotes
There are no approved quotes yet for this movie.